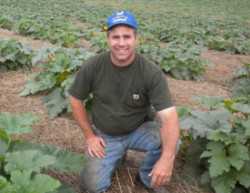 As you will find out after reading a little about the five operations presented here, the growers running these farming businesses give nothing less than 110%. A commitment to their operation in the areas of food safety, technology, and marketing, as well as a commitment to the industry, has led them to the pages of American Vegetable Grower (AVG) as a finalist for the 2010 Grower Achievement Award.
The Grower Achievement Award is sponsored by Syngenta in cooperation with United Fresh Produce Association. The award will be presented to the 2010 recipient at the United Fresh Washington Public Policy Conference in Washington, DC, on Sept. 16.
Each year, a panel of judges meets to talk about the merits of each finalist. Again this year, we received numerous nominations, and there were many exemplary operations from which to choose. The information that follows on this year's five finalists was gleaned from the nominations.
Cedar Meadow Farm
Location: Holtwood, PA
Owner: Steve Groff
Vegetable Acres: 200
Crops: Sweet corn, tomatoes, pumpkins, squash, and tillage radish
Cedar Meadow Farm is a no-till vegetable farm in Lancaster County, PA. Owner Steve Groff has pioneered the permanent cover cropping system that includes cover crops and crop rotations designed to enhance soil and water quality and reduce the use of crop protectants. Said to be the first commercial vegetable farm in the U.S. that is 100% no-till, Groff also has developed tillage radish, a new cover crop that has piqued the interest of growers across the country.
Continuously researching new cover crops, last year Groff tested 30 species, planted at different planting dates for a total of 75 plots. He hosted a field day, which brought in about 350 people to see the plots. He is very active in the industry and is a part of USDA's Northeast Sustainable Agriculture Research and Education Program as a sustainable farm educator. He also shares his research with growers at 12 to 15 speaking engagements each year. In addition, he travels to Canada, France, Germany, and Japan to learn about agricultural production in those countries.
In February 2010, Groff was presented with the Pennsylvania Tomato Industry Award for his pioneering work with cover crops.
---
American Farms
Location: Salinas, CA
General Manager: Israel Morales
Vegetable Acres: 7,500
Crops: Broccoli, lettuce, Romaine, greens, rapinni, mache, cauliflower, and beets
Owned by David Gill and Mike Hitchcock, American Farms is managed by Israel Morales. The operation is known as one that is technologically savvy and has worked to implement the latest technology to create additional efficiencies.
For example, American Farms was one of the very early grower-users of RTK GPS steering systems and still uses it today for listing, land leveling, and permanent bed farming. American Farms was also one of the first area growers to use the EcoDan cultivator guidance system for cultivation.
In addition, Morales invented a hoop system for growing mache, a salad green. The farm now grows about 270 acres of mache conventionally. About 60% of the crops produced on the farm, however, are grown organically.
Being in California, water is a precious resource that the farm works to conserve. Specifically, Morales' commitment to conserving water led him to get involved in a water management practices webinar that was held last December. Morales' participated in the presentation, discussing drought-proof and cost-saving on-farm water management practices.
---
L.H. Piggott & Girls Farm
Location: Benton Harbor, MI
Owner: George and Laurie McManus
Vegetable Acres: 700
Crops: Tomatoes, cucumbers, zucchini, yellow summer squash, eggplant, bell pepper, corn and soybean.
Known for its farm market that has been deemed "the place to visit" in southwest Michigan, L.H. Piggott & Girls also has worked to not only create efficiencies but to become more sustainable. Because the farm is located near Lake Michigan, which is an area that experiences high winds, George McManus III reduces the impact of the wind by using rye strips and contour farming. His use of cover crops reduces crop protectant and fertilizer input, and bailing plastic mulch limits the farm's impact on landfills. In addition, double cropping of plastic mulch helps to reduce the operation's environmental footprint.
Recently, McManus designed a new low tunnel that allows improving frost protection by an additional 5°F to 10°F compared to current standard systems. He combines polyethylene plastic row covers with an extra half layer of spunbond polyester material to trap more heat inside the row covers. With this added protection, crops can be planted as early as mid April. Supplying food to both its farm market and large grocery chains, L.H. Piggott takes food safety to heart. The farming operation and its packing facility are certified by a third-party auditor, PrimusLabs.
In addition, the operation was the recipient of the Master Farmer Award from the Michigan Vegetable Council during the Great Lakes Fruit, Vegetable and Farm Market Expo in December 2009.
---
Alstede Farms LLC
Location: Chester, NJ
Owners: Kurt and Barbara Alstede Vegetable Acres: 500
Crops: 200 different fresh market vegetables, fruit, and flowers
Alstede Farms is one of the largest fresh market vegetable, fruit, and flower farms in northern New Jersey. After establishing his agricultural business primarily in grain and wholesale vegetable and fruit markets, Kurt Alstede developed a diversified retail marketing business to sell his fresh produce and flowers. In addition to a year-round market, Alstede Farms features pick-your-own, school tours, on-farm summer camps, hayrides, parties, and harvest festivals. The farm also retails its products via 25 seasonal farmers' markets throughout northern New Jersey.
New this year for the farm is its involvement in a Community Supported Agriculture (CSA) venture. In fact, as part of the CSA, the farm has partnered with two large corporations in the area to supply employees with fresh produce. In addition, Alstede Farms has added 10 acres to devote to organic production and is working to become certified.
Also working to be good stewards of the land, the operation grows its summer crops on plastic mulch with drip irrigation. No-till pumpkins and sweet corn are standard plantings.
Alstede began farming in 1982 and his contributions to New Jersey agriculture have been signifcant over the years. He has been a participant on numerous boards and committees since his farming career began. He has received numerous awards, most recently being named the 2008 Grower of the Year in New Jersey.
---
Wysocki Produce Farm
Location: Bancroft, WI
Owners: Wysocki Family Of Companies
Vegetable Acres: 13,000
Crops: Potatoes, peas, sweet corn, green beans, soybeans, field corn, and alfalfa.
A second-generation family farm, Wysocki Produce Farm is part of the family-owned Wysocki Family of companies. It began in the late 1950s when three brothers partnered together and started the potato farm known today as Wysocki Produce Farm. Wysocki Produce Farm's Healthy Grown potatoes have received accreditation from Protected Harvest, a non-profit organization dedicated to advancing and certifying the use of environmentally and economically sustainable agricultural practices by developing stringent and quantifiable standards, incentive-based eco-labeling, and public education.
In addition to accreditation from Protected Harvest, the farm is GAP-certified. Its partner company, Paragon Potato Farms, requires GAP audit compliance from all of its potato growers, too.
The farm and its partner companies have made strides to be good stewards of energy consumption. By implementing computerized irrigation systems, controlled timers trigger the irrigation systems to turn off during peak energy consumption periods and run during off-peak times.
Wysocki Produce Farm also gives back to the community by being involved with the Portage County United Way. This year, the organization and its employees raised $20,000 to support United Way's agencies.