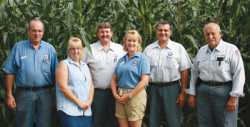 Kurt Alstede loves his job. As the owner of Alstede Farms in Chester, NJ, he loves everything about being a grower. You don't even have to ask him; it's written all over his face. He is excited to discuss the pepper varieties he is growing or to talk about the latest crops in his pick-your-own (PYO) operation.
Unlike most other growers, Alstede, the winner of American Vegetable Grower's 2010 Grower Achievement Award, didn't inherit his love of ag from his father. What he did learn from his father, who owned a Sunoco station that was in the family for 69 years, was a solid work ethic and how to treat customers. It was this solid foundation that led him to pursue a farming career that began in 1982 and later honed in on an agritainment business with several marketing arms.
Driven By Consumers
With all these avenues to sell produce, Alstede needed a vehicle to communicate with customers regarding the activities on the farm and the latest crops available for PYO. The best way to do that, he determined, is through the farm's website:
www.alstedefarms.com
. In addition, customers can now follow the farm's activities on
Facebook
and
Twitter
.
Located in a very populated area of New Jersey that's about an hour from New York City, the farm has a strong customer base. To stay one step ahead and keep customers coming back, Alstede realized the importance of knowing what consumers want and presenting them with new ideas. By constantly networking, listening to customers, and attending trade shows, he is able to keep tabs on consumers' desires. As a result, the operation grows nearly 250 fresh market vegetable and fruit varieties.
Of those 250, some of them aren't what you'd typically see in a grocery store, says Alstede. "This area is a hotbed of locally produced food and people are looking for oddball things," he explains. "When our seed salesmen come calling, they tell us about the exciting things they are offering."
For example, the operation not only offers red beets, it also produces orange ones. "It's an opportunity to present the vegetable in a different way," says Alstede. In addition to offering orange beets, customers can find purple string beans along with traditional string beans, wax beans, and lima beans. It is a similar situation with tomatoes and peppers. "We are always experimenting," he adds. "Everything we do is consumer driven."
Give 'Em What They Want
The PYO operation segued into farm tours, which led to birthday parties. "Now we have a full-time person running the farm tours and summer farm camp. This all evolved out of the one request for a birthday party," Alstede says with a laugh. "We try to be perceptive enough to be open to new things."
Leading By Example
Alstede also was perceptive enough to know that his operation was part of something much bigger: New Jersey agriculture and the ag industry. Through his actions, he has shown leadership and a commitment to the industry as a whole.
For example, it was just a couple of years ago when the governor of New Jersey made the proposal to have the New Jersey Department of Agriculture eliminated from the state government. Not one to sit idly by, Alstede had a link on his website's home page that said "Click here to help save New Jersey agriculture." In fact, Alstede testified on behalf of the New Jersey Department of Agriculture at the state budget hearing. His website also contained a link for donations to save the New Jersey Department of Agriculture.
Click here to see a video of Kurt Alstede discussing labor and technology.
Over the years, he has continued to give back to not only the community in which he lives and works but to the ag industry in general. Alstede has an extensive list of contributions that include serving on newly elected New Jersey Governor Chris Christie's transition team this year, a reappointment in 2009 by then Governor Jon Corzine as a public member of the New Jersey Highlands Council, and an appointment by former President George W. Bush to serve on the New Jersey State Committee of the Farm Service Agency from 2000 to 2006. Alstede also has been a member of the Chester Volunteer Fire Co. #1 since 1982.
In addition to serving on the New Jersey State Committee of the Farm Service Agency, some of Alstede's other agricultural activities include being a member of the New Jersey Farm Bureau, serving as director in 1988 and 1989, and holding the position of board president of the Morris County Board of Agriculture from 2003 to 2004.
His efforts did not go unrecognized. In 2008, he was presented with the New Jersey Grower of the Year Award. In 2005, he received the Tony Russo Marketing Award from the New Jersey Agricultural Society, and the Boy Scouts of America presented him with the Good Citizen Award in 1999.
The Latest Techniques
The Call To Farm
Alstede may not have grown up in a farming business, but he did grow up in a family business. His grandfather came to U.S. in 1921 from Germany and later opened up a Sunoco station. The station was in the Alstede family for 69 years and after his grandfather, the station was run by Kurt's father, Hermann. It was one of the oldest Sunocos in the country, he adds. What Alstede learned from the venture was a solid work ethic and customer service.
Upon finishing college at Delaware Valley College of Science and Agriculture in Doylestown, PA, in just three years, Alstede hit the ground running. The farmland he uses is permanently preserved through the New Jersey Farmland Preservation program and there are provisions in place to transition ownership of the land in the future, he adds. Right now about 45 acres, which includes two houses for employee housing and cropland, are permanently preserved.
Managing Employees
To handle farm preservation plus production, retail operations, and much more, it takes more than a few people to get the job done. And, as Alstede points out, there are a lot less farms in the area than even 30 years ago. As a result, there is considerably less interest from kids working on the farm.
"Most high-school-age kids don't want to work in production or harvesting," he says. "However, we have some very good kids working in our retail operation."
At Alstede Farms, about 100 people are employed during the prime season, which is July through November. Alstede uses some H-2A workers and he also employs students from a work-travel exchange program.
The farm has been using students using J-1 Exchange Visitor Visas, he says. They are college students from the Czech Republic, Slovakia, and Bulgaria.
"What makes this work out so well is that they are on a different schedule than the college kids here and we get these students from July through November," he concludes. "They are looking to sharpen their English skills."
A Message From The Sponsor
At Syngenta, we have made it our mission to help growers around the world increase their productivity and address the world's growing demand for food, feed, and fuel. At the heart of our business is a commitment to sustainable agriculture and improving quality of life.
We strive to be the leader in bringing innovative products and new technologies to the agriculture industry. And we are proud to partner with other industry leaders — growers and retailers — who have demonstrated their dedication to sustainability and good agricultural practices, exemplified high values, and contributed to community service. We are honored to sponsor the Grower Achievement Award in conjunction with American Vegetable Grower and would like to congratulate this year's award winner, Alstede Farms LLC.
Syngenta recognizes the vital role that growers like Alstede Farms play in the agricultural community, and we strive to support these growers by helping them grow more from less. We are committed to the future of the vegetable industry and work hard to research and develop innovative vegetable seeds and crop protection products. We support your business through the research and development of technology for pest control, plant breeding, produce quality, and pathology for a wide range of vegetable crops at key locations in Naples, FL, Woodland, CA, and Stanton, MN. We offer one-on-one support through our Farm Management Software, our Customer Center and farmassist.com. Our field technicians can also quickly identify potential problems and offer advice right where you are. In addition, many growers enjoy the flexibility and innovation of our Full Count plant program.
Not only do we strive to bring excellent products to market, but we strive to protect the environment, be good stewards of our resources, and give back to the community — just like Alstede Farms.
Thank you to everyone at Alstede Farms for your contribution to the vegetable industry and for the great example of stewardship that you set for all of us. Congratulations on your success!