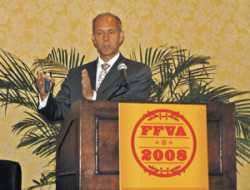 FDA food safety director David Acheson addressing the crowd during a recent food safety panel at the Florida Fruit and Vegetable Association's annual meeting.
To say that David Acheson, director of food safety at FDA, faced a less than sympathetic crowd during a panel on food safety at the recent Florida Fruit and Vegetable Association's annual meeting might be an understatement. He was joined by Thomas E. Stenzel, president/CEO of United Fresh, and Bryan Silbermann, president of the Produce Marketing Association, to discuss the mishandling of the recent Salmonella outbreak and the path forward.
To Stenzel's, Silbermann's, and the crowd's credit, they all were polite and appreciative of Acheson's appearance in front of a lot of Florida tomato growers who lost millions in the wake of the tomato food scare that eventually was linked to peppers produced in Mexico.
Systemic Changes Needed
Acheson began his presentation with a step-by-step discussion of the anatomy of the Salmonella outbreak and noted the need for changes in the way the current food safety system works.
"We need to make systemic changes to how we handle food safety," he said. "We need a national system to address how we handle the global food supply, and that is my job at FDA to drive this change."
Acheson noted one of the biggest problems in the current system is the lag time between CDC starting an investigation into what it believes is causing the sickness and turning over that information to FDA to start the on-the-ground search for the source of the outbreak. He said that process can often take up to two weeks or longer after the first illnesses occur.
"With this recent outbreak, this process took us from April to the end of May before we got the call from CDC on their information that they believed it was a certain type of food (certain raw tomatoes)," Acheson said. "That is the point where our agency swings into action and begins by asking where did this food come from with product tracing and try to trace where it went."
Many in the tomato industry suggest that the CDC and FDA acted too soon to name tomatoes as the possible source of the outbreak. After all, that warning is what tanked the market for Florida growers during a critical time of year. However, Acheson pointed out that his agency is bound by law to take action.
"We are in a difficult place because we want to communicate with consumers that we have statistical associations with some foods that might be the source," he said. "Do we sit on that information and wait on a positive identification or do we go ahead and tell consumers what we know?"
While Acheson said FDA must let consumers know of potential threats to their health, this recent outbreak points out flaws in the current system.
"Frankly, it didn't work because consumers heard tomatoes and didn't care where they came from, and they just stopped eating them," he said. "We need the ability to do this quickly, so when we are going out with our public health message, we can do this (traceback) in hours."
Comprehensive Reform
Stenzel said that a national program that wholly reforms the food safety system is critical. However, he stressed these measures must be commodity specific and not one-size-fits-all and must apply standards to imported foods as well. He pointed out that the mood in Washington, DC is to take legislative action on a national system.
"I can tell you after the election we will be back in town with a new President and Congress, and the next two years of Congress are likely to be the time that we will see major reform of food safety legislation for the first time since 1958," said Stenzel. "It will be comprehensive food safety reform and not produce only, which is something that is good. The bottom line is the Florida industry really needs to be actively involved in the coming year, because we are going to be seeing food safety reform coming down the line."
According to Stenzel, Florida is well positioned to be a part of the reform in light of coming mandatory food safety programs slated for the state's tomato growers and packers.
"The work that has been done by the Florida tomato industry has been a model that will be followed as we move forward nationally," he said. "The program that Florida started as a self-guided voluntary agreement now will be mandatory. I would see that same process going forward at the federal level, but again at the individual commodity level, not across the board. We must recognize the unique difference in all commodities."
Traceability Critical
Silbermann pointed much of his comments to the critical role of traceability in quickly bringing a food safety scare investigation to resolution.
"Ours is a global industry, and the solutions we apply must be global solutions," he said. "And, when I say apply, I don't just mean worldwide, I mean a program for all products.
"As far as traceability, we need greater diagnostic capability for outbreaks due to produce. We have a decentralized public health system, and the industry distribution practices confused the government. We don't use standard coding practices and we have lost consumer confidence along the way."
Silbermann pointed out that many growers and packers have good internal traceability systems, but there must be a mechanism in place to better link the entire chain from field to consumer. He said the adoption of the GS1 global standards was critical in achieving this goal.
GS1 is the bar-coding system that was formerly called Uniform Code Counsel. The system would allow specific codes to be applied to boxes in the field and packinghouses all the way to brand level. Up and down the food chain, growers, handlers, and sellers would need systems in place to apply and store this coded information to ensure rapid traceback in future food safety scares.