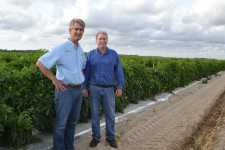 While many in the tomato industry are pulling back, Lipman has kicked its growth plans into a higher gear in the past year. With a number of acquisitions under its belt, the company is confident about success in the U.S. fresh produce sector.
According to Kent Shoemaker, CEO of Lipman, recent moves and growth are aimed at providing customers a consistent and reliable product supply year-round. "We are investing in strong farming operations that are geographically diverse," he says. "We are a vertically integrated business and have a strong research and development program to breed high-yielding, quality produce."
Lipman is the largest open-field tomato producer in North America, but the company also produces peppers, cucumbers, eggplant, hard squash, green beans, and sweet corn. While the majority of acres are based in Florida, other farms are located in South Carolina, Virginia, and California. The company also has deals with associated growers in Tennessee and North Carolina.
"We know from our customers that their big thing is dependability," says Shoemaker. "Dependability means flavor, quality, seasonality, and food safety."
Access To The Acre
As society becomes more and more wired through technology, consumers are seeking more information about who grows their food and where it comes from. While this concept takes some getting used to for some growers, Lipman has embraced a new transparency enabled by social media and other forms of outreach.
"People more than ever want to know their farmer," says Gerry Odell, chief farming officer for Lipman. "Our 'Access to the Acre' program is an extension of the field-to-fork philosophy, which gives customers access to our farms and growers.
"As part of this program, the Lipman Vegetable Garden was developed. We've dedicated 5,000 acres of our Estero farm to showcasing all the vegetables we grow. Customers are encouraged to visit this location to see our produce being grown and to interact with those that grow it."
Lipman is using social media to engage consumers on Facebook, Twitter, Pinterest, and YouTube. In 2012, the company launched a consumer-friendly website (LipmanKitchen.com). The site provides basic tomato facts, nutrition information, and recipes provided by some of the nation's top food bloggers.
"It used to be that Mr. and Mrs. Johnson went to the grocery store and visited the produce section and bought a tomato," says Shoemaker. "Today, they want to know more about that tomato and how it was grown. In the past, we've focused more on the business-to-business side, but that is changing based upon what our retail customers and consumers are asking for. The whole social media area feeds back into the idea that we have a good story we are proud to tell between our R&D program and our product, how we are working with employees, and our farming practices."
A Matter Of Taste
In recent years, U.S. field-grown tomatoes have gotten a bad rap for a lack of flavor. Lipman has sought to fight this perception, especially given the influx of imported tomatoes into the market.
"We have seen more buyer pressure in terms of taste," says Odell. "People are concerned with the flavor of the vegetables they eat. Taste is a major part of our breeding program."
he company's research and development program is extensive and led by
Dr. Mark Barineau. He is on a quest for what he calls the "perfect tomato" — one that has abundant flavor, superior nutritional value, and prolonged shelflife.
The breeding program has already scored hits with branded varieties like the Vintage Ripe heirloom tomato. "The Vintage Ripe is a high shoulder variety that we've been increasing acres over the past few years," says Odell. "It does well in Florida and on our farms in South Carolina and Virginia."
Last year, Lipman encouraged consumers to take the "True Tomato Taste" challenge, which was promoted by a website and an accompanying public relations effort.
"There had been a lot of talk about how today's tomatoes were flavorless," says Shoemaker. "So, we decided to set the record straight by offering consumers free samples of the Vintage Ripe through our taste challenge."
Other proprietary tomatoes under the Lipman label include Silk, Cherry Berries, Prima Roma, and Garden Jewel.
Shoemaker is quick to note the Lipman team is proud of its round tomato offerings as well. "I am going to brag about Gerry and his production team," he says. "We are growing better quality tomatoes than we were 10 years ago, even three years ago. This goes back to our R&D program and us becoming better growers every year. Regardless of what the reputation is out there on mature-green tomatoes, we are growing a great-looking and great-tasting product."
Business Moves Bode Well For Lipman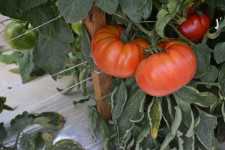 In some ways, sustainability has been a troublesome concept in agriculture. There are many points of view on its proper definition and sometimes growers feel pigeonholed by the expectations that come along with the term.
"In terms of production, we were running a sustainable operation before people were calling it that," says Shoemaker. "Gerry has taken our production to nearly 100% drip irrigation, which saves water and fertilizer inputs. The Lipman family has owned this land in Florida for more than 50 years and expects to own it for a long time. We are not doing anything to compromise this land or our ability to continue farming for years to come. To me, this is the essence of sustainability."
"There is a misconception that has been promulgated in the media that a big farmer can't be a good farmer," says Odell. "That's just not true. We manage every farm unit for distinct soil types and water sources. We spend a lot of time determining how to manage each site in a sustainable manner."
Sustainability also has come to include the idea of fair food for many. This is another term with many definitions, but Shoemaker says Florida has moved to the forefront in labor relations. "If you look at the Florida tomato industry today, it is more socially progressive and has taken a lead working with employees over pay and conditions.
"As a supporter of the Campaign for Fair Food, Lipman complies with or exceeds all fair wage and treatment protocols. All employees are educated on safety, health, and environmental precautions, as well as their rights under the Migrant and Seasonal Agricultural Worker Protection Act from day one.
"We also provide free housing for thousands of migrant workers every year. This includes utilities. And, as part of our continued community outreach program, Lipman offers multiple scholarship opportunities for children of farmworkers. In the past five years, more than $1.2 million has been donated to programs that directly benefit our family of workers."
Going Undercover
There has been a lot of attention placed on protected agriculture in recent years. In fact, part of Florida's trade challenges and resulting market declines have come from tomatoes produced under protected culture in Mexico and Canada.
This past fall, Lipman installed five acres of Cravo retractable roof greenhouse on its farm in Naples. In its first season of production, Gerry Odell says they are identifying which systems will work best under cover.
"Principally, this is an experiment trying to work out a hybrid system of production to benefit from the advantages of protected ag, but one that also allows us to use outdoor practices, which are more efficient."
Several types of tomatoes have been planted under the structure including round, grape, and heirloom varieties. "We won't know until after the season what sort of enhancement we will have compared to outside production, but we expect we could see yield increases of 300% to 400% in some instances," says Odell.
The Cravo greenhouse structure will extend the Florida growing season and protect against the ill effects of weather. "We had two storm systems blow through this season, particularly the effects of Hurricane Sandy, that brought us eight days of wind," says Odell. "We just closed the side curtains and the plants didn't go through all the weather the crop outside did."
Opportunity Ahead
While the domestic fresh tomato industry has faced unusually tough challenges in recent years, the Lipman team is confident and poised to take advantages of opportunities heading into the future. Through its recent acquisitions, Lipman can touch 75% of all metro areas in the U.S and has an integrated structure to reach those customers quickly and efficiently.
"To me, one of the most important qualities of our company is its agility," says Odell. "We can make rapid adjustments to changing circumstances. We can do it a lot quicker than many companies."
"I tell younger folks inside and outside our organization there is going to be more opportunity in the coming years," says Shoemaker. "It is not going to easier. It will probably be tougher in a lot of cases. But if you are smart, there will be more opportunities for success and personal growth when compared to the past 25 years."