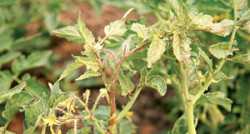 The calls started coming in from concerned growers right around the end of July. They were seeing some blight in their tomato fields, and they wanted Gene Miyao, the University of California (UC) Cooperative Extension farm advisor for vegetable crops in Yolo, Solano, and Sacramento counties, to check it out.
From the growers' descriptions, Miyao thought it must be an outbreak of tobacco streak virus, which is not uncommon in the area. When he got to the first field, sure enough, he found some surface necrosis on the stems near the growing points, extending about 6 inches down the stem. It looked very much like tobacco streak. Samples were sent off to the pathologists at UC-Davis, but they found out it wasn't tobacco streak at all. It looked a bit like tomato spotted wilt as well, but the samples proved negative for that too.
Miyao was mystified. He's been a farm advisor for nearly 30 years, and in all that time he doesn't recall ever seeing a new virus. "The pathologists at Davis are still trying to track it down," he said in early September. "It's certainly not a common tomato virus."
What's Spreading It?
What's really strange about the mysterious virus is that it not only showed up in a lot of fields, but it appeared over a huge area, extending from Miyao's territory north of Sacramento down into the upper San Joaquin Valley. "You wouldn't expect it to be so widespread," he said. "It would be little by little, not just showing up in a flash."
Because it showed up in so many places in such a short time frame, Miyao said some people fear that it's coming in on transplants. In Miyao's region, nearly all of the tomatoes are grown for canning, and while traditionally grown from seed, today fully 70% to 75% of processing tomatoes are from transplants.
Not all fields in the area are affected, but those growers who have been hit are seeing the virus on up to 20% of the plants in certain fields. While it's not a huge problem, said Miyao, there has been some lost production. "It wouldn't be considered a major disease," he said, "but it is certainly attention-getting."
In any case, the mysterious virus leaves Miyao with a lot of unanswered questions, especially in regard to the future. "How threatening will this be in 2009? I'm not an alarmist, but you have to wonder if it will escalate in the future," he says. "Does it over-winter well? We don't know."