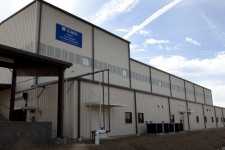 The growth of alternative fuel usage has expanded significantly over the past decades. According to the Renewable Fuels Association, U.S. ethanol production has grown from 175 million gallons in 1980 to more than 13 billion gallons in 2010.
But the production of alternative biofuels has not been without its critics. The opposition has been strongest to corn-based ethanol, which makes up a large part of production in the country. Enter Florida, which some argue can blaze the way for new biofuel technologies based on non-food biomass to generate the fuels of tomorrow.
Already, at least five projects are planned or even under construction chasing the new energy boom. In Perry, UF/IFAS, in conjunction with Buckeye Technologies, has constructed a demonstration biorefinery that will test various types of plants and biomass and techniques for producing ethanol.
The 18,500 square-foot plant is called the Stan Mayfield Biorefinery Pilot Plant in honor of the late state representative, who was an advocate of renewable fuels and secured $20 million in appropriations from the state legislature to build the plant.
Lonnie Ingram, a microbiology professor for UF/IFAS, will direct research activities at the plant. He developed a genetically modified bacterium that will be central to the biorefinery's operations. The bacterium breaks down cellulose into simple compounds used to produce fuel ethanol and bioplastics.
"Florida is in an excellent position for future development of renewable biofuels and chemicals," he says. "Florida represents a 9 billion gallon annual market for automotive and diesel fuels. The state has a long growing season and land that can be used to produce carbohydrate feedstocks for renewable products.
"Florida already has attracted many new bioenergy companies including a unique combination of gasification, electricity, and fuel production from landfill materials, ethanol production by recombinant algae, ethanol production from sugar crops such as sweet sorghum, and ethanol production from fiber crops such as energy cane. Additional companies are developing new crop varieties for bioenergy and have targeted Florida a likely market for commercial deployment."
Seeking Biomass
At the plant, researchers will be testing a number of materials for suitability in making biofuels, including crop fiber residues, forest residues and green waste, pulp and paper fiber, short rotation trees, and energy crops (fiber, starch, and sugar).
"Agronomic trials of energy crops and short rotation trees are under way throughout the state conducted by both UF/IFAS and commercial seed and seedling companies," says Ingram. "Considering the diversity of soils and climates in Florida, multiple solutions are anticipated."
Energy Efficiency
The renewable energy movement was largely born with the idea of becoming less dependent on imported petroleum sources. Ingram notes the most immediate answer to this problem is building more fuel-efficient vehicles and transportation options, with biofuels playing a key role.
"Estimates by the USDA and the Department of Energy support the potential replacement of up to half of automotive fuels with biomass-based fuels," he says. "Combining this production with improved efficiency of vehicles, public transportation, and continuing domestic production should enable the U.S. to eliminate our dependency on imported oil.
"Ethanol production from corn in the U.S. and from cane syrup in Brazil are now mature industries that compete directly with petroleum products. We should build on these successful models using alternative starch crops and sugar crops that can expand the area of production to Florida and throughout the country."
Considerable progress has been made in the past few years concerning the conversion of fiber to fuel ethanol (cellulosic ethanol) and deployment of small plants has begun. As this technology continues to improve and mature, lignocellulosic feedstocks offer many advantages in energy density, storage, and processing for large scale future deployment. These areas are where research will be focused at the Perry plant.
Production of ethanol from sugars is highly efficient, condensing more than 90% of energy in sugars into ethanol (14 pounds of sugar per gallon). Even higher density fuels can be produced in the future, but these currently require even more sugar per gallon of fuel (20 to 30 pounds of sugar per gallon). Although these new products do not currently match the energy efficiency of ethanol production from corn or sugarcane, continuing development of these new chemical fuels may provide an increasing suite of renewable fuel products and renewable chemicals for plastics.
Finding A Fit For Farmers
Will emerging renewable energy markets prove a profitable option for growers looking to plant alternative crops? Through all the alternative energy discussion, that is the main question on most farmers' minds.
Ingram believes growers will benefit from this movement toward energy independence. "I am confident that these areas can be used to produce energy crops for sugar, starch, or fiber," he says. "The large scale of our fuel needs, potential transportation costs, and our requirement for cost-competitive pricing with petroleum will encourage dedicated production of energy crops at a large scale. Further research is needed to identify, enable, and improve energy crops (and trees) for Florida."