Imagine ticks as big as basketballs sucking on your body. That's what Varroa mites are like on bees.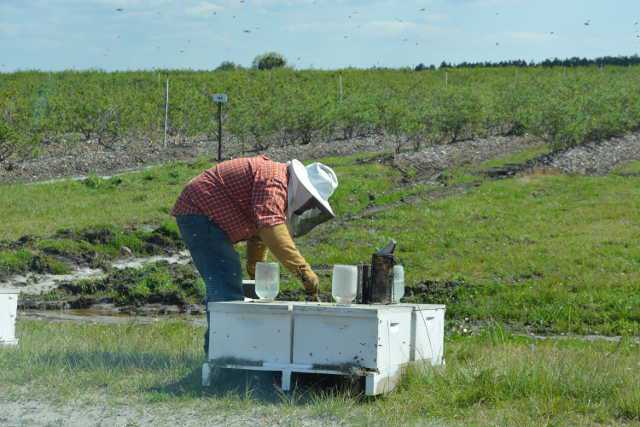 Dr. Jamie Ellis painted that ugh-inspiring picture as part of what's plaguing pollinators during his presentation earlier this year to the Florida Senate Agriculture Committee. Dr. Ellis, associate professor with the Honey Bee Research and Extension Laboratory at the University of Florida/Institute of Food and Agricultural Sciences, spoke about private and public partnership efforts to build a state-of-the-art $3.5 million bee lab at UF.
What's the buzz all about?
Pollinators add billions to the nation's economy – honey bee pollination alone adds more than $15 billion in value to more than 90 commercially grown crops in North America. In Florida, the state's 450,000 bee colonies pollinate watermelon, squash, blueberries, cantaloupes, and many other fruits and vegetables.
During his Senate presentation, Dr. Ellis ticked off a host of concerns beekeepers face in managing the health of their honey bee hives: poor nutrition, loss of forage lands, parasites, pathogens, pesticides, and travel stresses.
During Florida's regular and special session, advocates for the Florida State Beekeepers Association (FSBA) met with legislators seeking state support for building a state-of-the-art bee lab at the University of Florida. Florida has an opportunity to be a national leader in bee research by creating a top research and education station at UF. With the Sunshine State's warm climate, hundreds of beekeepers bring thousands of bee colonies to winter in Florida, which would provide a huge experimental group for scientists to work with in addition to the state's resident population of managed bees.
Recently, the Bee Informed Partnership (a collaboration between leading bee research laboratories and USDA) released a survey of the average honey bee colony losses nationwide. The survey found a 42% loss of managed colonies compared to a 34% loss rate last year. However, Dr. Ellis points out that the loss rate in Florida was 54.8%, which means that Florida beekeepers have to invest heavily in recovering the colonies they lose.
The plight of pollinators and research efforts to understand colony collapse disorder are getting national attention. This spring, the White House Pollinator Health Task Force released its "National Strategy to Promote the Health of Honey Bees and Other Pollinators."
The White House Pollinator Health Task Force has identified critical goals related to reducing overwintering losses for managed honey bees, restoring and enhancing pollinator habitat, and increasing monarch butterfly populations.
In response to activists who focused mostly on the report's recommendations regarding pesticides, CropLife America – a crop protection industry advocate and a member of the Honey Bee Health Coalition — noted: "Ongoing research and field studies have consistently found no adverse effects on bee colonies when pesticides are applied according to label directions."
While researchers seek solutions to pollinators' problems, it is critical that growers, beekeepers, and the ag-chem industry work together to protect pollinators and plants.
Florida has been a leader in protecting bees through management plans – details can be found by clicking here.
For more information on crop protection technology stewardship practices, download The Guide to Seed Treatment Stewardship, jointly produced by the American Seed Trade Association and CLA along with a host of grower organizations.
The Honey Bee Health Coalition's vision of "Healthy Bees, Healthy People, Healthy Planet" is one we can all support.