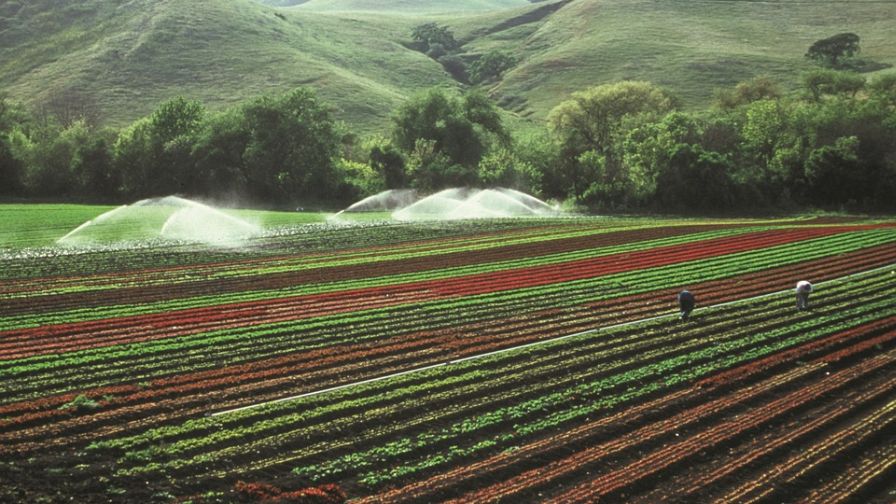 With energy costs unlikely to decline significantly in coming years, any savings or reductions in the rate of cost increases will almost certainly have to come through improvements in efficiency and incorporation of additional conservation measures. The USDA Natural Resources Conservation Service's (NRCS) suite of "Energy Tools" can be a good first step in planning for changes on farms and ranches.
NRCS has developed four tools (so far) designed to help farmers and ranchers better understand energy costs associated with:
Animal Housing
Irrigation
Nitrogen
Tillage
The tools, along with other energy use assessment aids, are accessible through the NRCS Energy Consumption Awareness Tools webpage.
Keeping an Eye on Irrigation
The Irrigation Tool prompts users for inputs to estimate energy costs associated with pumping and delivering irrigation water. The Irrigation Tool is designed to be state specific. Users start by entering their zip code.
Next, users are asked a series of questions to describe the hydraulic factors associated with their current (or planned) irrigation system. Factors include the well lift and system pressures.
Each data input screen includes links for additional references, including state-specific resources, contacts, and programs. Comment opportunities also are provided.
In the third step, users are prompted to identify the irrigated crop, acres irrigated, and the seasonal irrigation volume in ac-in/acre. Charts are available if on-farm measurements are not available.
Of course, the accuracy of the inputs will impact the validity of the results ("garbage in, garbage out"). Still, even with less than perfect inputs, results can be informative for comparison purposes. Just don't hold NRCS to specific dollar amounts.
Here's a snapshot of the form: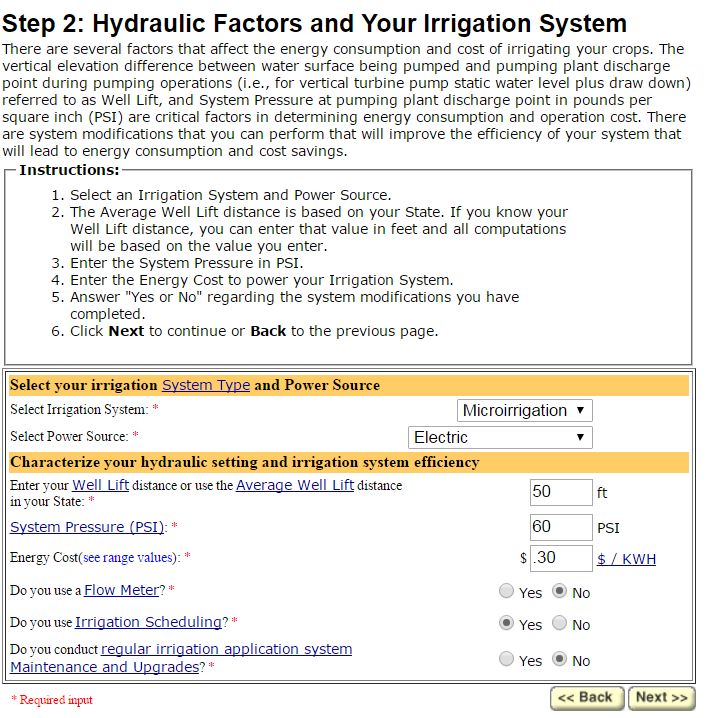 How to Get More Self Help
In addition to the Irrigation and Nitrogen Tools, the site provides links to a series of energy self-assessment tools, which include evaluation models for greenhouses, irrigation, lighting, potato storage, and ventilation among others. These evaluation and assessment aids are available both through the Energy Consumption Awareness Tools webpage and directly through the Energy Self-Assessment page. This section includes both a series of Conservation Tools and Renewable Energy Tools.
Where changes would seem to make economic and environmental sense, farm operators may want to take the planning to another level through the development if Irrigation Water Management Plans or Energy Conservation Plans ("Conservation Activity Plans" in NRCS terminology). Technical and/or financial assistance may be available to help in the development of these plans. And local NRCS staff are available to help discuss options.