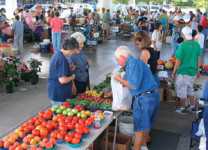 The fourth annual Florida Small Farms and Alternative Enterprises Conference was held in Kissimmee in July. The event provides growers with an opportunity to network with a diverse group of educators, stakeholders, and allied industry to learn how to produce and market high-quality, safe, and affordable food and fiber to the public.
Best Practices
In smaller grower circles, the farmers' market is a critical meeting point between the grower and the consumer. A workshop about starting and managing successful farmers markets was well attended at the conference. Sharon Yeago, a farmers' market and local food systems consultant, moderated the workshop. While many of the things that make a great farmers' market a success are common sense knowledge, she says these steps are critical and often overlooked.
Starting a market from the ground up requires well-defined bylaws, rules, and organizational structure that everyone involved agrees upon. Yeago added that it is important to know all local, state, and federal regulations that might impact the location and future operation of the market.
She said that market managers need to be "benevolent dictators" to ensure things operate efficiently as possible. Like anywhere else, office politics can come into play between market vendors, calling for a strong and fair arbiter of rules.
She shared her personal opinion that charging market vendors fees and/or dues is wise because it creates a sense of value and avoids a situation where just anybody can show up and set up a stand. She added that it is important to nurture vendors' success and listen to their ideas on what works or doesn't in the market place.
Finally, she noted that market managers should be prepared for the worst, but to "expect the best."
Build A Community
Ultimately, the success of any market is determined by the people who come to shop there. For this reason, a large part of a farmers' market's focus should be on building a returning community of customers. After all, many who shop at farmers' markets come there for the experience. It is a matter of lifestyle.
Yeago said any new market should be started in a "safe zone" that takes into account crime rates in the area and other things like pedestrian safety. With a good location staked out, promotion is essential. She suggested that markets conduct public outreach campaigns and partner with businesses that are well known in the community where the market is located.
Yeago couldn't stress enough the importance of signage to promote markets and to quite literally point people in the right direction to find the market. And, she added, in the world of farmers' markets, word of mouth rules. So, a well-kept and diverse market is critical to keep people coming back and telling their friends about the experience of shopping there.
Grower Perspective
Amy Van Scoik is a grower who markets some of what she grows at farmers' markets. She and her husband John Bitter run Frog Song Organics in Hawthorne. During the workshop, Scoik provided best practices for farmers' markets and the growers who sell there.
She said farmers' markets should consider::
Who are you serving?
What type of market is it?
Why does your community need a farmers' market? Why should a farmer participate in your market?
Where is a convenient, accessible, and attractive location?
When should the market be scheduled to be open?
Scoik stressed that successful markets are those that are designed to be "farmer friendly." These include an accessible parking and loading area, flexibility on fees during the off season, accommodation of seasonal products, transparency from those who are in produce re-sell, and verification and enforcement of marketing claims like organic, natural, no-spray, etc.
Scoik, like Yeago, stressed the critical importance of good signage and creating attractive displays to draw customers to your space in the market. As for growers who sell at markets, she said a consistent presence at the market is important to building a loyal customer base and become a "familiar face" at the market.
She also said growers should know their products and share that knowledge with customers. Knowing the nutritional makeup of your produce and sharing recipes on how to prepare your produce make you a more valuable resource to the buyer.
In terms of marketing, she said a web presence is a must these days to extend your relationship with customers. "Facebook," she said. "It's free."