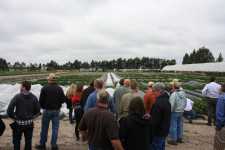 The 2nd Vegetable and Small Fruit Protected Ag Field Day and IV Protected Ag Information Network (PAINet) Congress in Florida was organized by UF/IFAS and held at the Gulf Coast Research and Education Center in Balm. PAINet is a non profit organization that has been made possible through efforts on behalf of the consulting firm, Agrogestion from Nicaragua, the Dominican Agricultural and Forestry Research Institute, the Costa Rican Institute of Agricultural Technology and Innovation, and the University of Florida.
This collaboration and exchange of information allows scientists and agricultural researchers to arrange educational settings free of cost to interested growers to help them learn how to better operate their growing systems.
The event attracted participants from different states in the U.S. as well as growers from Central and South America. Productores de Hortalizas, a Meister Media publication attended the event, which was divided up into two parts consisting of a conference and a guided tour. Here are a few important things we learned in the conference portion of the event.
Diligence In Diversification
Robert Hochmuth, UF/IFAS Extension agent at the North Florida Research and Education Center in Live Oak, explained the different uses of shade houses for smaller growers. While detailing improved uses of the system, Hochmuth recommended that when sweet pepper production is out of season, that growers should use that area for producing leafy vegetables.
He also mentioned that although he conducted research with shadehouses made of 50% polypropylene, he would recommend reducing that percentage to 30% to 40%.
Technology And Inputs
Milagros Fernández Fernandéz from the Agricultural and Fishery Research and Training Institute of Almeria, Spain explained why growers from the Andalusia region of Spain are transitioning to greenhouse production. He mentioned that input prices for biological control methods are decreasing because a lot of growers are opting to use more environmentally friendly products, which has caused competitive pricing and deals between providers. 
Also, he compared the return on investment between the Dutch systems and the medium technology Spanish systems, emphasizing that it's not always the best technology that's the most expensive or that works appropriately with the local geography or current needs of the market.
Physiology And Nutrition
Eddie Mendoza from the National Association of Greenhouse Growers of Guatemala stressed the importance of investing in greenhouses that work best with the local environment. He explains for example, that the tropical Guatemalan climate justifies investing in greenhouses that are hermetically sealed.
When he began to learn how to manage temperatures within the greenhouse and to better understand plant physiology, he was able to increase his yield by 60 to 66 pounds per three square feet. According to Mendoza, plant transpiration regulates the temperature: more leaves mean more transpiration, which consequently lowers the temperature inside the greenhouse.
He went on to say that each plant needs an individual drip that contains the appropriate amount of nutrition and the same amount of water for each one. He emphasized that for every joule, you must apply 100 cc (40 cubic inches) of nutritional solution. Mendoza recycles 30% of his water using UV systems and bleach, which allows them to save a significant amount of money on fertilizers.
Failure To Yield
Bielinski Santos, UF/IFAS associate professor, explained the difference in production and yield between open field and greenhouses. According to Santos, a grower can see an increase in yield between 100% to 110% in a protected environment. This number includes savings in production that would normally be lost in open field production due to the vulnerability of the crops to climate effects.
Pest Control Pointers
Hugh Smith, UF/IFAS assistant professor of entomology, discussed the different stages of growth for mites, as well as the importance of applying control methods that were specific to each growth stage.
Gary Vallad, UF/IFAS assistant professor of plant pathology, stressed the importance of finding out about pest and disease problems that may exist in the areas surrounding your operation. By doing this, growers will save time and will be able to properly protect their crops and implement their integrated pest management program.