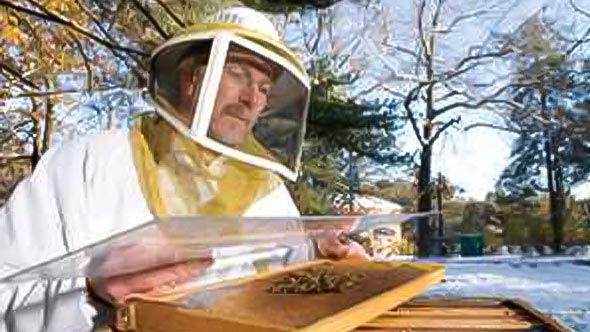 Bayer CropScience recently announced it is seeking nominations for its third annual Bee Care Community Leadership Award, which recognizes an individual who uses his or her interest in and commitment to honey bees to benefit the community in which they live.
The award, an initiative of Bayer's North American Bee Care Program, provides a $5,000 grant to the winner to be used in support of a community beekeeping project. The winner will also receive an all-expense paid trip to a reception in Washington, DC, during National Pollinator Week.
The criteria to be considered by a panel of four judges for the award include:
> Describing a project that leverages the power of a honey bee hive and beekeeping to benefit a community;
> Answering a set of essay questions on the application form; and
> Submitting a letter of reference from an apiarist, community organization, or member of a relevant organization, such as a beekeeping association.
"Honey bees play an important role in supporting our food supply, pollinating as much as a quarter of all plants consumed in the U.S. and $15 billion of American crops," said David Fischer, manager of the Bayer North America Bee Care Center. "Beekeepers not only care for these important insects, but also provide a positive influence in their communities by encouraging others to explore innovative ways to incorporate honey bee colonies in their work."
The past winners of the Bee Care Community Leadership Award exemplify beekeepers who leveraged their passion for honey bees into benefiting their neighbors and communities.
2014 winner Herbert Everhart of Kearneysville, WV, created an initiative that is considered the first beekeeping program for veterans in the U.S. Sponsored by the West Virginia Beekeepers Association, the Youth and Veteran Beekeeper Programs were designed to educate young people and veterans on all aspects of beekeeping, including establishing hives and marketing their products.
2013 winner Steve McNair of Flanagan, IL, is the director of development at Salem4youth, a therapeutic residential program for at-risk men ages 12-18 years old. Through beekeeping, he provided a unique skill set and approach to teaching responsibility and discipline to Salem4youth teens.
"Since we received the award this past summer, we have been able to expand our programs and reach even more veterans by engaging them in the pleasure and responsibilities of beekeeping," said Everhart. "Bayer's grant allowed us to tap into the growing interest in beekeeping and help a new generation of beekeepers develop an awareness of the importance of bees and their colonies."
Any beekeeper or individual with a focus on honey bees may apply. Activities the beekeeper or individual may be engaged in include, but are not limited to, the use of beekeeping in therapy, such as with at-risk youth or veterans, bee care education for children or adults, and community events that allow non-beekeepers to understand the inner working of a bee hive and more.
Individuals interested in applying for the award can obtain an application at www.pollinatorweek.bayer.com. The deadline for submission is April 3.
The Community Leadership Award is only one of several initiatives celebrated by the Bayer North American Bee Care Program. Others include:
Partnership with the National FFA Organization to provide grants to inspire interest among America's youth in agriculture and apiculture professions;
Donation of $100,000 to Project Apis m. (PAm.) to provide mustard and vetch seed mixes to be planted by almond and other crop growers in California and Washington; and
The award-winning Bayer Bee Care Tour, which traveled to major agricultural schools and other events in seven states to foster collaboration among beekeepers, growers, researchers, and others concerned about bee health.
For more information on Bayer's bee health initiatives, please visit: http://www.bayercropscience.us/our-commitment/bee-health.
Source: Bayer CropScience