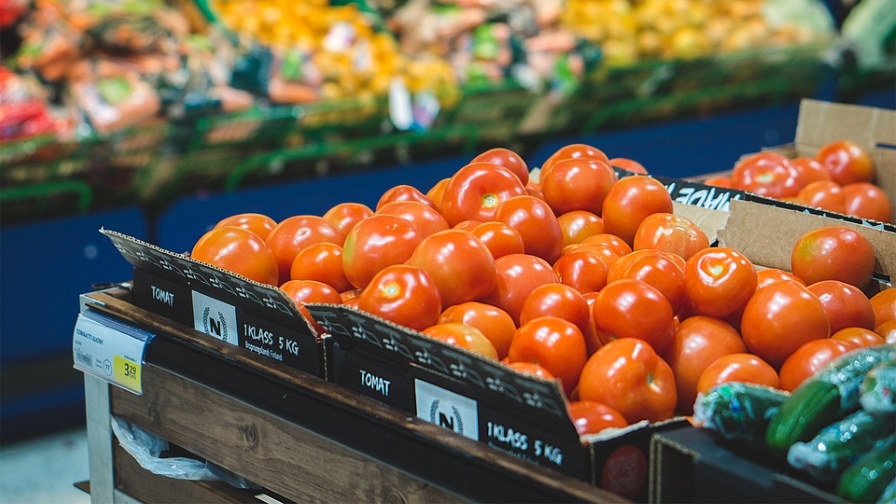 Weather conditions and poor performing crops are dragging down overall U.S. vegetable shipments this year, according to our analysis of a recent USDA report. This is despite strong performances from some key crops like tomatoes and seedless watermelons.
Quick Overview of 2019 Compared to 2018
Although overall vegetable shipments fell by 4.3%, the year over year comparisons tended to vary widely.
Spring Rains Impact Shipments
The Midwest and Central California have the biggest dips in vegetable shipments compared to last year.
The Midwest shipments dropped 24% through the end of June. It's still early in the season for the Midwest, so we will have to wait to see how much of an impact heavy spring rains have had.
Central California and the rest of the Southwest growing region's season, however, is either in full swing or completed for the year.
For Central California, shipments are down 13%. The rest of the Southwest is down 11%.
We defined the Southwest by grouping together not only AZ, TX, and NM vegetable shipments, but also those from Southern California and the Imperial Valley. Arizona and the nearby Imperial Valley were especially hard hit, down 33% and 21%, respectively. The downturns stem from sharply lower cantaloupe and seedless watermelon shipments.
Spring rains hit the Salinas Valley and other Central California areas, delaying planting there, though not to the extent as in the Midwest and Northeast.
It's worth noting that no vegetable shipments from the Northeast are called out in the report. Those shipments may be included in the catchall category of "Other Sections," which lumps all minor regions shipments into a single number.
How Other Regions Fare So Far in 2019
Most other regions saw increased vegetable shipments, albeit in much smaller numbers when compared to the Midwest and Central California.
The Pacific Northwest shipments increased by 4.6%. Likewise The Southeastern U.S. saw a 2.7% increase.
Organic Shipments Are Up Significantly
Although conventional vegetable shipments are down so far in 2019, organic vegetable shipments are up sharply at 59%.
That said, the volume of organic produce is much lower than conventional, only 3.3% of all produced shipped in the first half of 2019.
One crop key to the large increase is carrots, which rocketed from 83.3 million pounds shipped in 2018 to 209.5 million pounds in 2019.
Just about all organic vegetables saw increases, while only two organic vegetable crops reported lower shipments. Organic seedless watermelons dropped slightly from 13.4 million pounds to 13.1 million.
In contrast, only about half the amount of organic onions shipped this year compared to last year (from 7.1 million pounds to 3.5 million).
Crop Shipment Highlights
We've already mentioned the drop in cantaloupe and seedless watermelons shipments. Here are how a few other crops are faring.
Leafy Greens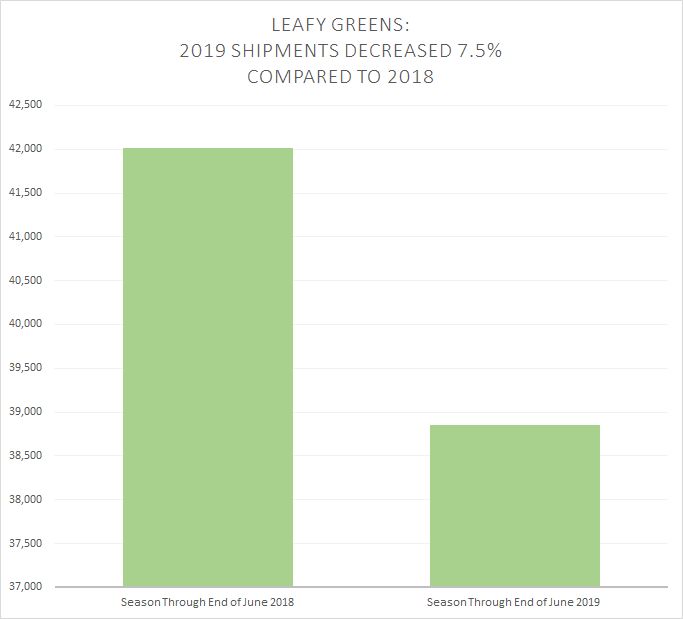 Although USDA lists each leafy green separately in its report, we grouped together to see which trends emerge.
Overall, shipments are down over 2018, although most of the E. coli outbreaks took place during the first half of 2018. There are likely several reasons for this.
First, Arizona figures are not included in the report. This report tracks total shipments so far during a season to a designated date. Since the Yuma season begins in the fall, for this report's purpose, it's 2019 season has not yet started.
The second reason for lower numbers is likely due to wet conditions during the planting season, which led to delays.
Other leafy greens had a sharper decline that romaine, namely processed lettuce (37.9% decrease) and greens (24.7% decrease).
Since romaine and iceberg are more significant crops (together they account for two thirds of 2019 shipments), their trends naturally have a stronger impact than any of the other categories.
Here's how they're playing out so far in 2019:
LEAFY GREENS: 2019 SHIPMENTS COMPARED TO 2018
 Season Through End of June 2019
Season Through End of June 2018
Percent Increase or Decrease
 Romaine
 1.34 billion pounds
 1.4 billion pounds
 

-4.7%

 Iceberg
 1.63 billion pounds
 1.59 billion pounds
 2.6%
 Endive
 8 million pounds
 8.9 million pounds
 

-10.1%

 Escarole
 11.5 million pounds
 10.9 million pounds
 5.5%
 Greens
 174.8 million pounds
 232.2 million pounds
 

-24.7%

 Spinach
 111 million pounds
 106.1 million pounds
 4.62%
 Processed Lettuce
 384.9 million pounds
 619.8 million pounds
 

-31.9%

 Other Lettuce
 227 million pounds
 229.2 million pounds
 

-0.96%

 TOTAL
 3.89 billion pounds
 4.2 billion pounds
 

-7.5%
Tomatoes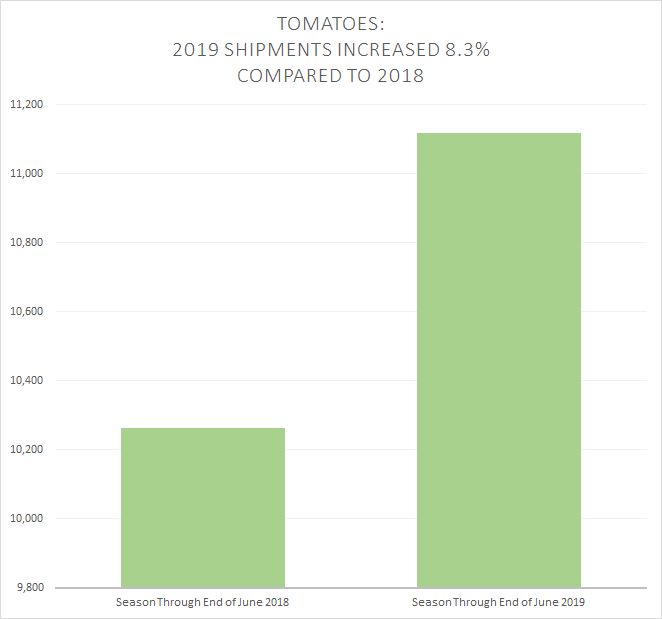 Like leafy greens, each type of tomatoes is listed separately by USDA, and we combined them in order to observe trends.
Unlike leafy greens, tomato shipments increased in 2019.
Field tomato shipments, which made up more than half of the shipments, had a modest increase of 2.7%. But other types of tomatoes had stronger increases:
Plum: 26.9% increase (from 16.6 million pounds shipped to 21.1 million pounds)
Grape: 20.4% increase (from 8.4 million pounds to 10.1 million)
Cherry: 19% increase (from 1.8 million pounds to 2.2 million)
One striking feature for tomatoes is how closely imports are tied to U.S. shipments. This is a pattern for all crops, but it's especially strong for tomatoes: The larger the U.S. shipment, the lower the import shipment.
Here's how the pattern plays out across all crops: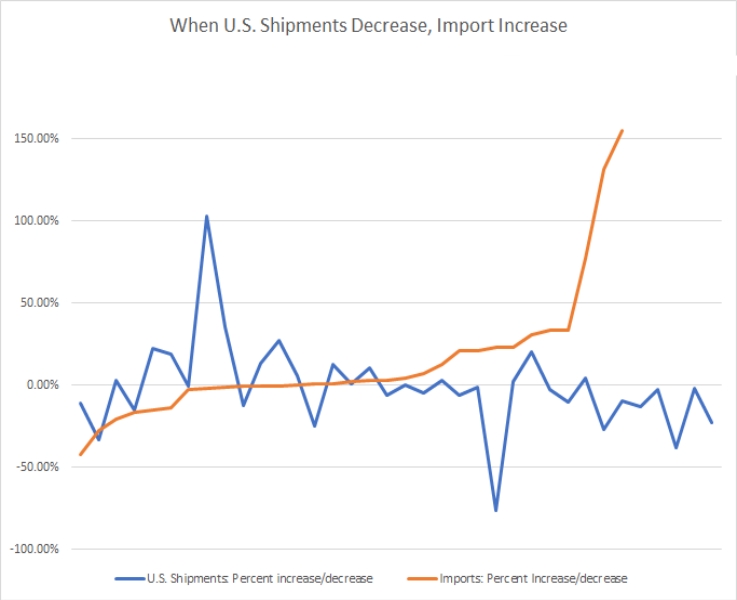 Sweet Potatoes
Sweet potato shipments fell 23% in 2019. All sweet potato regions reported losses, but since North Carolina dominates the market, its 26% drop had a significant impact on overall shipment numbers.
Sweet Corn
Sweet corn is another crop with a significant shipment decline in 2019. It fell 15% over all. Every region reported declines, and in a break from other crops, imported shipments also declined. Imports were down 16%.
Squash
The only other significant crops with healthy shipment increases (we've already looked at tomatoes and seedless watermelons) is squash. Shipments rose 13%.
It differs from those other categories in a significant way, however. Three of the major states shipping squash — North Carolina, South Carolina, and Michigan — report a drop in shipments. The double-digit increase stems from Georgia and the combination of all the other minor states and regions.