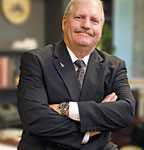 The class of 2018 has just arrived on campus at the University of Florida's College of Agricultural and Life Sciences (CALS).
While we don't have the specific breakdown of the academic credentials of the new CALS students, they're drawn from an incredibly competitive pool: Freshmen admitted for admission to UF this summer/fall had an average high school GPA of 4.4.
Of the new CALS freshmen, 73% are women, and about one-fifth are from underrepresented racial/ethnic minority groups.
CALS was already the third-largest college at UF and one of the largest colleges of its kind in the nation, but this fall agriculture is even trendier.
All UF entering freshmen were issued a copy of "The Good Food Revolution" and expected to read it as part of the university's Common Reading Program. Its author, Will Allen, CEO of the country's preeminent urban farm and non-profit organization, Growing Power, was the speaker at the new student convocation. The Common Reading Program is designed to provide all first-year students with a common intellectual experience.
We also have a dynamic new leader of CALS in Dean Elaine Turner. Dr. Turner started as interim dean in January and became dean in April. She's been on the UF faculty since 1996 and has a number of teaching awards to her credit.
She'll be a key to helping us launch Challenge 2050, a CALS undergraduate certificate program focused on the challenges of feeding a projected population of 9.6 billion in the year 2050.
CALS also is involved in the launch of the first fully online bachelor's degree programs at a public university in Florida. UF Online opened for transfers in January and this summer started its first group of freshmen. The bachelor of science in environmental management in agriculture and natural resources was established as one of the first five majors for the new online branch of UF.
Even before UF Online, CALS offered hundreds of individual online courses as well as traditional classroom instruction in Apopka, Ft. Lauderdale, Ft. Pierce, Miami-Dade, Milton and Plant City.
CALS serves nearly 5,000 students whose majors range from horticultural science to geomatics to food and resource economics.