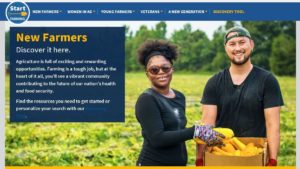 As the average age of farm operators in the U.S. continues a 30-year plus upward trend, there is increasing concern about the future of agriculture and the U.S. food and fiber production system. The industry badly needs new growers.
Is another generation of farmers ready, willing, and able to take over the reins? Will the transition be a smooth one? Will the next generation drastically reshape the agricultural system and economy? What will the next generation of farmers look like? Will there even be a next generation of farmers and ranchers in some parts of the country?
For a glimpse at trends, visit the USDA Census of Agriculture website.
Similar trends have been documented in the Canadian Census of Agriculture. A statistic of particular concern documented in the 2012 U.S. Census was the decline in the number of beginning farmers. Will we see a reversal in that trend as the results of the 2017 Census of Agriculture become available?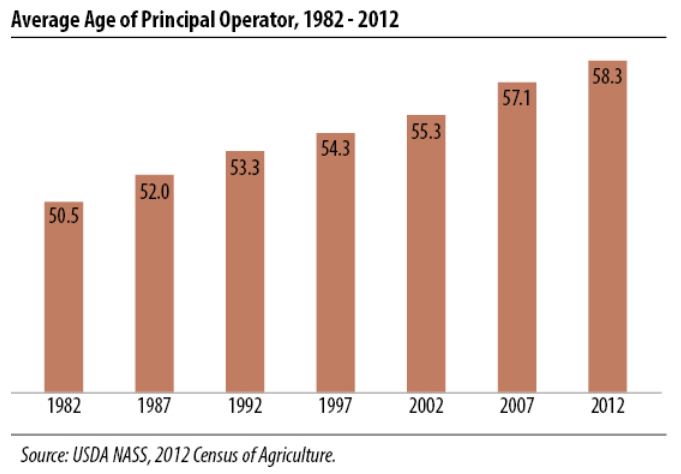 USDA Offers Online Help for New Growers
USDA encourages new farmers through a variety of strategies. These include a shift in program delivery and strategic communication. USDA has thoroughly redesigned its web page. The "I'm looking for…" section features a short drop-down list with a choice for "How to Start a Farm" leading to "New farmers, start here." It doesn't get more basic than that.
While none of these references can ever begin to replace on-farm experience — or one-on-one interactions with farm operators and advisors — they are designed to help new and beginning farmers explore options, understand the roles of government agencies and programs, and connect growers. They embed and embrace the social media tools that are so much a part of the current culture with links to Twitter, Facebook, Instagram, YouTube, Flickr, USDA RSS (Really Simple Syndication) feeds, USDA videos posted on Google+ and YouTube, and a suite of USDA blogs on a variety of topics.
I found the USDA New Farmer portal Discovery Tool especially intriguing. Answering a short set of questions sets up a personalized collection of recommended links. This is a tool that could be useful for farmers of any age or experience level!
The USDA Natural Resources Conservation Service (NRCS) has a formal definition for a beginning farmer or rancher as an individual or entity who/that:
Has not operated a farm or ranch, or who has operated a farm or ranch for not more than 10 consecutive years. This requirement applies to all members of an entity.
Will materially and substantially participate in the operation of the farm or ranch.
Take a tour of four new USDA websites for new growers.
New Growers Are Eligible for Assistance
Under the 2014 Farm Bill, many types of under-served groups may be eligible for special consideration in USDA's programs. Those eligible are wide-ranging, including not only beginning, veteran, and limited-resource farmers and ranchers, but also Indian tribes, or socially disadvantaged groups and individuals. You can find full details on their site. Other USDA agencies have similar web-assisted request tools.
Requests for NRCS assistance can, of course, be made in person, but consistent with the way many people like to do business these days, online assistance models are being implemented. See "Get Started with NRCS" or the agency's "Conservation Client Gateway."
Lots of Resources Available Outside USDA
Land grant colleges and local cooperative Extension offices are similarly focused on new and beginning farmer assistance. New and beginning farmer Facebook groups and other internet-based social networks are forming throughout the country and around the world. These localized or regional networks can provide a forum for addressing questions, sharing tips and technology, or just telling stories and posting promotional photos and materials.
It's not the Grange social networking model of earlier generations with regular, face-to-face social interactions in a brick-and-mortar facility but offers many of the same functions. These groups still frequently organize and promote in-person interactions with the advantage of the efficiency of the internet and mobile phone platforms for sharing and coordinating information.
While these internet-based resources are increasingly available and robust, local agency staff and advisors remain ready and available to help as we work together to shape the future of agriculture, feed the world, maintain and enhance quality of life and standards of living, and protect and improve the planet's natural resources and agro-ecosystem.
Streamlined Agencies Designed to Better Serve
USDA Secretary Sonny Perdue has created a new mission area called Farm Production and Conservation (FPAC). While each agency will retain its own identity, programs, and authorities, this reorganization combines the Farm Service Agency, Natural Resources Conservation Service (NRCS), and the Risk Management Agency under a single departmental mission area with the goal of achieving administrative efficiencies and providing superior service to clients and the public. As part of Secretary Perdue's "OneUSDA" vision and operating model, an early action of FPAC was to launch the new web page Farmers.gov.