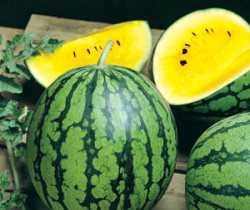 Producing triploid and diploid watermelon for nearly two decades, Seeds By Design, Inc. continues to expand the market and has several varieties from which to choose. Noting that color, flavor, and uniqueness are driving forces in today's fruit and vegetable markets, the company offers watermelon with unique rind patterns, various flesh colors, and a wide range of fruit sizes.
| | |
| --- | --- |
| | |
| Baby Doll | Triple Gold |
| | |
| Triple Crown | Triple Grey |
For example, Baby Doll, a 6- to 10-pound fruit, matures 70 days from transplanting. A bright yellow fleshed diploid hybrid, this variety boasts a green rind with small dark stripes.
A yellow triploid hybrid companion to Baby Doll is Triple Gold. This seedless watermelon matures in 80 days, has a very sweet, lemon-yellow flesh, and weighs between 6 and 9 pounds.
The next watermelon on the list is Triple Crown. Maturing 80 days from transplanting, Triple Crown has a medium-green rind and dark-green striping. Fruit weigh between 18 and 20 pounds and are oval and slightly elongated.
The last variety is Triple Grey, a seedless version of Regency. Weighing in at 20-plus pounds, this Charleston Grey triploid has excellent flesh quality and red/pink color.
To learn more, go to www.seedsbydesign.com.