This Q&A is the final installment of four special features honoring the 2016 Florida Grower® magazine Citrus Achievement AwardSM winner Marty McKenna, owner of McKenna Brothers Inc.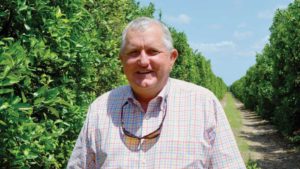 Q: How are you applying the new bactericides products?
A: We are applying our foliar through a ground spray application. The first part of the year we had nothing in the tank except a surfactant. Our latest application was tank-mixed with our regular oil spray. That is basically due to economics, so we are hopeful it will be something that can work on a regular program. It will be much more affordable and efficient.
The groves today (as of this posting) appear to look as good as they have looked in several years. However, they always look better in August. And maybe it is just the good growing conditions we have had. It is probably a little bit early to give a lot of credit to bactericides. On the other hand, if the groves look good and the bactericides are out there, you can't dismiss that fact. We are hopeful these bactericides will be a bridge to a longer-term solution.
Q: What are reasonable per-acre input costs in the era of HLB?
A: Everybody used to throw out the number of $2,000 per acre for inputs during the last three or four greening seasons. In our operation, we can't spend $2,000 per acre and stay in the black. I would say everybody is evaluating these costs and where we can achieve some savings.
Our target is less than $1,800. Now, that doesn't mean in the season that something might pop up and we have to tend to it. That might put us closer to the $1,800. But, we are trying our best to stay below $1,800.
Special thanks to Arysta LifeScience for sponsoring the Citrus Achievement Award.