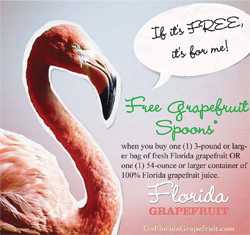 Breaking through the clutter to reach tech-savvy, time-starved consumers requires new tools in our marketing arsenal. The FDOC's current grapefruit campaign integrates advertising, public relations, and trade communications to reach women 25 to 44 years old where they live, shop, eat, and socialize to deliver messages about health, vitality, taste, beauty, and style.
We're building upon the momentum created by last year's introduction of our flippant flamingo Frank and his beautiful sidekick, Ruby Marsh, and the launch of www.gofloridagrapefruit.com to continue to make our products relevant to a new generation of consumers and maintain positive sales.
Magazine Marketing
A national print campaign reached our target audience through magazines focused on health/wellness, beauty/fashion, and celebrity lifestyles. Our messages about the health benefits of grapefruit were expanded through special inserts, such as the first-ever pocket fitness guide inserted in Fitness magazine and a full-page, refrigerator cling to appear in other publications in March. Each of the magazines' custom online features linked viewers to the site www.gofloridagrapefruit.com.
Web Promotions
We utilized social media channels to deliver grapefruit information and encourage consumers to spread the word. Bloggers touted the benefits of grapefruit, and Frank recruited his own fan club on Facebook. Web site visitors shared their passion for grapefruit by sending electronic greeting cards featuring Frank's unique sense of humor.
During the high-profile Hollywood awards season, our target audience learned how to get "Ruby Red-Carpet Ready" with Florida grapefruit from celebrity personal trainer and food coach Valerie Waters. Television interviews, as well as a viral partnership with www.sheknows.com, generated increased grapefruit website traffic.
In Stores
Shoppers in Chicago, Boston, Philadelphia, and New York viewed Florida grapefruit videos featuring nutrition information and usage tips on 42-inch plasma televisions located in the produce and deli/meat departments of nearly 800 supermarkets.
To drive product movement, all marketing efforts promoted a free grapefruit spoon with purchase offer to motivate consumers to visit their local supermarket and enjoy the bold, sassy taste of grapefruit and grapefruit juice.
On The Menu
National foodservice operators were encouraged to add versatile menu items pairing grapefruit with nutrition-packed superfruits to boost sales and profits and give customers new dining options.
Innovative approaches allow us to access consumers through new communication channels. The FDOC marketing team and its contract agencies continually monitor marketplace trends and integrate new tools to increase the effectiveness of our campaigns. In addition, an independent analysis being conducted by Marketing Accountability Partnership will provide future recommendations to help maximize growers' return on investment and to positively impact citrus sales.