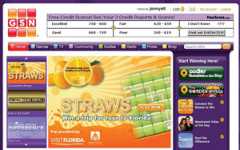 While consumers continue to seek information from television, newspapers, and radio, they increasingly turn to other communication channels and respected sources to be the first in the know. The Florida Department of Citrus (FDOC) marketing team, in conjunction with our partner agencies, closely follows trends and integrates new media into our marketing plan to remain relevant to our audience and motivate them to purchase and consume Florida citrus every day.
Using our advertising campaign as the foundation, we surround consumers with health and wellness messages that reinforce the signature visual pour of orange juice and the distinctive voice of Tom Selleck to keep our products top of mind throughout the day and all year long. We tailor our message delivery to the medium so we can effectively engage our audience online.
No longer must television viewers plan their schedules around their favorite shows. Instead, the growing trend is to watch programs at our convenience from a computer or hand-held device. FDOC creates visibility for on-demand viewers through our ABC.com primetime sponsorship. There are three ad "pods" throughout the broadcast; FDOC delivers custom health and wellness messages via an interactive hangman game, and animated 3-D recipe segments featuring Florida citrus.
Watch And Learn
The Game Show Network has proven to be a highly successful channel to interact with our target customers both on television and online. In conjunction with Visit Florida, FDOC offers gamers a chance to win a trip to Florida. The FDOC "Straws" game, launched last fall, has been played by more than 2½ million people, making it the "most successful partner game ever," according to GSN.com. Together, FDOC and GSN.com introduced "Straws" as the first-ever custom iPhone game (Download the app at http://itunes.apple.com).
To pique interest among culinary enthusiasts, FDOC launched an "All About Citrus" instant win trivia sweepstakes on AllRecipes.com with prizes again provided by Visit Florida.
Traditional greeting cards may one day become obsolete as sites like AmericanGreetings.com and EGreetings.com encourage individuals to send interactive greeting cards. An FDOC-sponsored greeting card includes a word scramble activity with health-related language.
Online Facetime
These emerging channels have proven to be popular with consumers; click-through rates for FDOC online elements are as much as three times the industry average.
Facebook continues to be one of the fastest growing social networking sites, especially among adults 35+. More than 60% of Facebook users are female, making this a prime vehicle to reach our target audiences. FDOC launched pages for both Florida Orange Juice and Go Florida Grapefruit last year. Constantly changing content encourages Facebook users to sign up as fans and receive the latest scoop about Florida citrus.
As Twitter continues to gain in popularity, FDOC is tweeting about Florida grapefruit. Strategic messages at @goflgrapefruit are designed to capture the attention of women ages 25 to 45 with a keen interest in health and beauty. A female fan of grapefruit leads the conversation and occasionally Frank the flamingo adds one of his smart, satirical remarks.
In the blogosphere, FDOC establishes key relationships with influential bloggers to deliver positive health and wellness messages about Florida citrus. Blog readers relate to these online authors who appear to be just like them and share information through virtual grassroots communications among peers. Online contests further engage readers and reward them with custom Florida citrus gear like breakfast totes, insulated beverage holders, and grapefruit spoons.
All of these nontraditional venues provide multiple touch points to reach new consumers and drive traffic to FloridaJuice.com and GoFloridaGrapefruit.com, which provide detailed information about the benefits of Florida citrus.
As new media continues to develop, the FDOC marketing team will evaluate and incorporate new tactics to surround consumers with Florida citrus messages every day throughout the day. Increased top-of-mind awareness helps drive sales and consumption of Florida citrus. After all, a healthy citrus industry benefits us all.