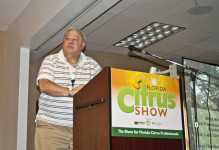 The law of supply and demand is a fairly simple concept. Putting a finger on citrus pricing lately has been anything but routine. At the 2013 Florida Citrus Show, Allen Morris, vice president of sales and marketing for Blue Lake Citrus Products, led a presentation about the changing face of the retail market and its impact on fruit prices.
During the last decade, the synergy between fruit prices and retail OJ prices appears to have changed compared to time periods preceding it. According to Morris, the 1990s saw relatively stable prices with little flux, but the volatile 1980s saw retail OJ prices adjust accordingly in the same year. "That's not happening today," he said. For example, while both sets of prices increased together in 2007-2008, it took a full year after fruit prices dropped for retail prices to follow suit.
Morris pointed out one possible reason for this kind of pattern shift could be due to increased consolidation among retailers. "In 1998, the five biggest food retailers made up 35% of the market," he said. "By 2008, they were 56% of the market." If this is indeed the main reason for the pricing perplexities, get used to more of the same. "The change then is likely permanent," he said.
Another possible blip could be due to fruit sourcing strategy during this period by the OJ brands. Obviously, this scenario would be influenced by the future fruit sourcing plans of the brands. "For growers, there is more volatility in the groves (today)," he said.
With statistics showing big retailers holding the majority of the cards, Morris did provide a simple go-forward strategy for the growers in the room. "Do a good job in marketing your fruit."