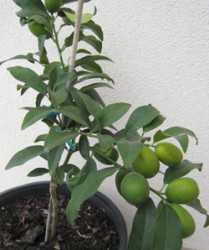 The citrus grove of the future was a featured topic of one of the educational sessions during the Indian River Citrus Seminar held in Ft. Pierce in January. There is a growing recognition that the productive life of citrus trees must be moved up when they are subject to be removed due to greening or other disease.
Dr. Mani Skaria, a professor and citrus pathologist from the Texas A&M Kingsville Citrus Center, brought his "Orange Revolution" message to growers attending the seminar. His revolution centers around micro-budded trees that are planted in very high densities compared to conventional standards. He says densities for Valencias could range from 800 to 900 trees per acre, while grapefruit could range from 500 to 600 trees per acre.
"The whole idea is to create a system that reduces costs to a point where you can plant more trees and get higher returns, especially in the first 10 years of the grove's life," says Skaria. "Research has proven that if you plant more trees, you will get higher returns. Now, we have a system that makes it affordable to plant more citrus trees, resulting from drastically reduced tree and planting costs."
Could It Work In Florida?
Skaria refers to his program as a "bailout" for Florida citrus that is bending under the weight of greening. Micro-budding is based on a modified cleft graft. This is generally difficult to do on young tissue, but a Texas nursery has developed a system to make citrus trees on a commercial scale. This system would be available to interested Florida growers and nurseries.
"Micro-budding of citrus is a novel technique that I developed many years ago, but it was brought to a commercial scale recently," says Skaria. "These citrus trees are inexpensive to buy and are easy to plant and don't have problems with rootstock suckers. They produce fruit in two years from rootstock seed."
A commercial nursery has been set up in Edinburg, TX, to produce the micro-budded trees. After failures and restructuring, the nursery has successfully achieved commercial production of micro-budded trees. It sold more than 40,000 trees in 2007-2008, committed to approximately 60,000 trees for the spring of 2009, and many more trees for late 2009 and 2010.
Quicker And Less Costly
Skaria says reasons to be excited about his orange revolution are simple. It is quicker and costs less to plant, water and fertilizer requirements are less, and trees are brought into commercial production more quickly.
"It takes only four to five months after seeding before the micro-budded tree can be planted in the field," says Skaria. "In a micro-budded, high-density planting, we bypass the nursery phase and plant them in the field. Drip irrigation is preferred, but some people have planted them under flood irrigation.
"The cost may be one-third (or even less) of a conventional nursery tree, and the planting cost may be one-eighth of current planting costs. Micro-budded trees can be planted with a tomato planter. The overall cost is substantially less. Without paying more money for plants, one can plant many times more micro-budded trees compared to the conventional trees."
If Florida uses a high volume of micro-budded trees, the tree cost could be less than $2.
"My personal experience as a citrus grower, operating more than 200 citrus acres in south Texas for a decade and as a citrus scientist, has convinced me that micro-budded, high-density planting has a great future for economical citrus production. High-density citrus production may bring some negative thoughts in some people's mind, but please note that there are several citrus growers in the U.S that have done well with high-density planting."