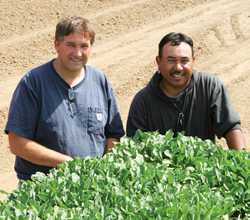 This past summer Skip Gray had a problem that was keeping him up at night, tossing and turning. Gray farms a wide variety of vegetables and other crops on 1,500 acres in Oregon's Willamette Valley, but his high-dollar crops are seed, both for flowers and vegetables.
He had a field of lupine seed that was ready to be harvested, but he didn't have enough drier space. If he waited much longer, the pods would pop open, and he'd lose the lucrative seed.
In his search for an answer, Gray thought about a book he refers to as his bible, Good To Great, a best-selling business book by Jim Collins, a former faculty member at the Stanford University Graduate School of Business. Good leaders, remembered Gray, create a climate where the truth is heard, and they lead with questions, not answers. "I said to the guys: There are no stupid ideas," he recalled recently. "And I got a lot of great ideas I'd never considered."
Some of the ideas tossed around were definitely creative. One employee suggested putting the seed into trucks with plenums, or false floors, on the bottoms, drying the seed in the trucks. In the end, Gray decided to go with another employee's idea, which was to contact nut processing plants to see if they had any capacity they weren't using. The crop was saved. "No, it's not like it's rocket science, but the point is, I didn't have that answer," says Gray. "And it was a lot better than staying up all night."
Not Foxy
Gray said he was immediately taken with the book's ideas since he first heard about it at a 2001 meeting of the Association of Agricultural Professional Executives. Besides rereading it at least once a year, he's had posters made up, highlighting some of its key concepts. He doesn't mandate that his employees read the book, but after learning a little about the idea of building a great farming operation, many want to know more. "All the guys who work here — even the guys who can barely speak English — could explain our hedgehog concept, and what it means," Gray says casually.
The "hedgehog concept" is one of the keys to the strategy. It comes from the idea of comparing a fox, a cunning creature that knows many things, with a hedgehog, a plodding animal that knows just one big thing. The hedgehog concept is found at the intersection of three circles: what you can be the best in the world at, what you are deeply passionate about, and what drives your economic engine. Gray sums up their hedgehog concept thusly: "We grow crops that perform for us consistently that a lot of people don't want to grow."
The most important word in that hedgehog concept is "we." Gray, who is quick to emphasize "we are a long way from having a great company," says that the quest to become great starts with the people. He notes that the book states that idea succinctly in a chapter heading: "First Who … Then What." In Collins' exhaustive studies that identified companies that made much higher profits over a long period than did their competitors, he found they started not with a vision, but with people.
All Aboard
"People are not your most important asset," states Collins. "The right people are."
The author uses a bus analogy that Gray is fond of. The executives who transformed companies from good to great did not figure out where to drive the bus and get people to take it there. No, first they got the right people on the bus — and the wrong people off the bus — and then figured out where to drive it.
Gray says the strategy is working out for them. "We explain to new hires that we have a bus here, that all hires are probationary, and all the bus riders can weigh in," he says. "You work here, you work hard. We hire five, work like 10, and pay like eight. You know within the first two weeks if people are going to put that effort in, and they know it, too."
Visitors are sometimes taken aback by who ends up "on the bus," says Gray. It's most certainly not based on appearances; it's about who will work, and learn, and grow in the pursuit of becoming great. This past summer, while driving by one of his 160 fields, Gray turns to a visitor and then nods toward a crew planting a field of cauliflower. "Their English isn't perfect, but they can figure out exactly where we are at in that field in terms of profit," he says with more than a hint of pride. "One employee started out irrigating here, and now he checks the price of wheat twice a day."
Skip Gray on his speaking engagements.