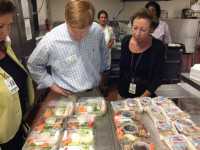 In January, Florida joined only two other states in the U.S. (Texas and New Jersey) that have moved their school lunch program under their respective state departments of agriculture. It was one of Commissioner Adam Putnam's signature issues as he took the reins of the Florida Department of Agriculture and Consumer Services (FDACS).
Putnam argued it just makes sense that the state agency closest to the farmers who grow the food would have more control over feeding the state's 2.6 million public school children. Florida's legislature agreed and voted overwhelmingly to move the school lunch program out of the Department of Education and place it under FDACS.
Nationally, USDA has set new meal pattern requirements for schools which aim to increase the amount of fresh fruits and vegetables children consume while in school. FDACS' Division of Food, Nutrition, and Wellness is working with USDA to ensure its purchasing coincides with the new federal mandates that were put forth in January 2012. This was the first time in more than 15 years that school lunch requirements were upgraded to include more healthy servings.
The statewide Farm to School push can be divided into three separate, but interconnected efforts. The first is for participating school districts statewide to coordinate the produce side of their menu. School districts throughout the state assisted in the creation of a weekly featured Florida-grown product that will be utilized by participating school districts. This list of products, along with a chart indicating the harvesting periods for Florida-grown crops, are to be utilized by the districts to create menus for their schools.
"It is our hope that by school districts using a common produce item each week, they can increase their purchasing power and be provided fresh, in-season product at a lower price," says Robin Safley, director of FDACS' Food, Nutrition, and Wellness division.
http://player.ooyala.com/player.js?deepLinkEmbedCode=lsM2xtNToAC6Aj6zMkugqhNQzYEIBg60&height=371&embedCode=lsM2xtNToAC6Aj6zMkugqhNQzYEIBg60&video_pcode=9yams6EXcBFt9lj0g8BNtt5lua9u&width=660
Florida's Farm To School Forging Opportunities
In an effort to assist school districts in obtaining the best produce at the lowest possible price, the Department will be administering statewide procurements for fresh fruit and vegetables throughout the year. FDACS will be procuring various fresh produce based on the Florida agricultural harvesting timeline, and will be soliciting responses/bids from growers during five separate growing seasons. The first procurement consisted of 13 products, ranging from cabbage to peppers to tangerines. The bid was separated into five regions, and growers had the ability to bid on one or multiple regions depending on their capabilities. This bid began in August and more will follow throughout the subsequent growing seasons.
Marketing To The Kids
It is one thing to serve children more fruits and vegetables, but it is another to get them to eat the healthier alternatives. That's where marketing comes in. As a final piece to the Farm to School effort, the state has been creating educational outreach material that will be used to educate children on the importance of incorporating fruit and vegetables into their daily meals as well as how and where products are grown throughout the state. This month will bring the start of this year-long Farm to School statewide promotion featuring produce items identified on the common menus. The state will kick off the promotion with Cucumber Week, Sept. 4-8, followed by Okra Week, Sept. 17-21. There will be 19 different produce items featured throughout the school year.
"Research shows the more children know about their food, the more likely they are to try something new," says Safley. "The Department is working on several ways to create messaging around the featured produce of the week. In cafeterias this fall, students, teachers, and parents can expect posters displayed with vibrant photographs of the weekly produce along with interesting facts about where, how, and when the produce is grown. The posters also will include a trivia fact and will feature chef inspired, kid-tested recipes using the featured produce."
In addition to the posters, a flyer will be available in participating schools for students to take home. The marketing message promoting healthy fruits and vegetables will be further extended with posters in grocery stores featuring the produce item of the week.
Meet MarketMaker
According to Safley, one way she envisions growers and school districts networking will be through the online community MarketMaker, which was created by UF/IFAS. "At this time, our main focus is to encourage both growers and school districts to register with MarketMaker and create a user profile," she says. "Once the system is populated, we can begin to understand the changes that will need to be made in order to make the system more user-friendly for our Farm to School efforts.
"In the future, we intend to utilize this platform to: send out copies of the statewide bids as they are released as another point of contact for potential bidders; have producers and buyers create opportunities on the buy-and-sell forum; send targeted eMails to increase purchasing between schools, distributors, and producers, and to use MarketMaker more extensively whereby producers will connect with distributors and other buyers for needs extending beyond Farm to School efforts."
To learn how to create a MarketMaker profile, visit http://fl.marketmaker.uiuc.edu.
The Long View
"Our hope is that educators, parents, and the community will see healthy eating habits begin to change within the school system as well as in their community as a whole," says Safley. "We hope to bring awareness of the potential of the school foodservice market and the impact it can have on the producers within the state. We also hope to affect the amount of partnering among growers, processors, and distributors and open up new markets for these individuals within the produce industry and ultimately have growers producing product specifically for schools — as a pre-sale of the crop. At the end of the day, we would like to see a very mature market for both Florida farmers and Florida school foodservice authorities."