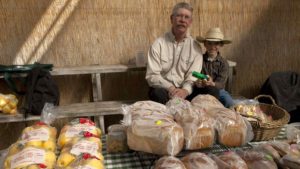 Farm marketing operations — on-farm markets, pick-your-own, farmers' markets, CSAs, and roadside stands — are more likely to remain in business than those growing operations that do not sell directly to the public, economists at USDA's Economic Research Service (ERS) say.
Although all growers face price fluctuations and unpredictable yields, ERS' examination of the Census of Agriculture data shows that 61% of farms with direct-to-consumer sales in 2007 were in business under the same operator in 2012, compared with only 55% of farms without direct-to-consumer sales. This stability held true even when comparing farms in four different levels of annual sales: in each category, farm marketing operations had a higher survival rate. The difference in survival rates ranged from 10 percentage points among the smallest farms to about 6 percentage points among the largest.
Part of the reason for this increased survival rate is likely straightforward. There are a lot more marketing opportunities than there used to be. The ERS study looked at shifts in farm marketing between 2002 and 2012. It found that the number of outlets that foster growers selling directly to consumers increased 24% during that time period.
"What is it about direct-to-consumer marketing that seems to enhance farmers' chances of remaining in business?" the report's summary asks. "One advantage may stem from the fact that farms using direct-to-consumer marketing may be less capital-intensive operations. The Census data show that farms with direct sales required less machinery and land to achieve a certain level of sales. Moreover, these farms had lower debt levels than similarly sized farms with no direct sales."
Another reason for the stability may be the marketing operations tend to have both wholesale and retail sales, the researchers speculate.
"Even when farmers' input and output prices vary, the markup between the wholesale and retail prices tends to be relatively stable. Hence, the additional income that farmers can earn by selling directly to consumers rather than to wholesalers should not vary substantially because of farm price fluctuations, making their farm income less risky," the report says.
Another factor in play? Farm marketers tend to grow their operations at a slower pace, the report shows.