The U.S. Apple association (USApple) forecast the 2016 crop to be 246 million boxes/bushels, up 3% from both 2015 and the five-year average.
The forecast was announced at the annual Apple Crop Outlook & Marketing Conference in Chicago, hosted by USApple, where the Apple Grower of the Year™, Scott McDougall, was honored.
Each year, American Fruit Grower® magazine honors one grower as Apple Grower of the Year™. This year, the award went to McDougall, who with his brother Stuart heads McDougall & Sons in Wenatchee, WA.
"I'm very honored; (the award) always (goes) to one individual, but it's a tribute to our whole company, the orchard team, all the way through our packaging and marketing level," Scott McDougall said. "There's been a lot of excitement since I was chosen, and it's just been a real special honor to be able to receive this award."
McDougall was honored in part for his aggressive approach to the many new varieties that have emerged in the past couple decades, especially securing the exclusive rights a dozen years ago to 'Ambrosia,' a chance seedling found in a 'Jonagold' planting in British Columbia.
"When we received the rights to 'Ambrosia' in the U.S., it was the start of our company and our growth pattern. We were looking for an apple we could control, that would not get pulled down in price with other commodity apples," he said. "Once we saw we were meeting those objectives, we felt much better with continuing to plant more acres of that particular variety. And the same would hold true for any of the ENZA (the New Zealand club variety program) products we've been involved with."
The Apple Grower of the Year™ award is sponsored by Valent U.S.A., and company Vice President, Sales, Rick Kraus, said McDougall plainly stood out.
"One of the things that came through loud and clear was his passion for research and development, his passion for looking at new varieties to be able to separate himself from the rest of the commodity industry, but also his ways of looking at things as simple as agronomy and controlling problems," he said. "We sell solutions, that's what we're about, and without someone like Scott as an example, we wouldn't be in existence either."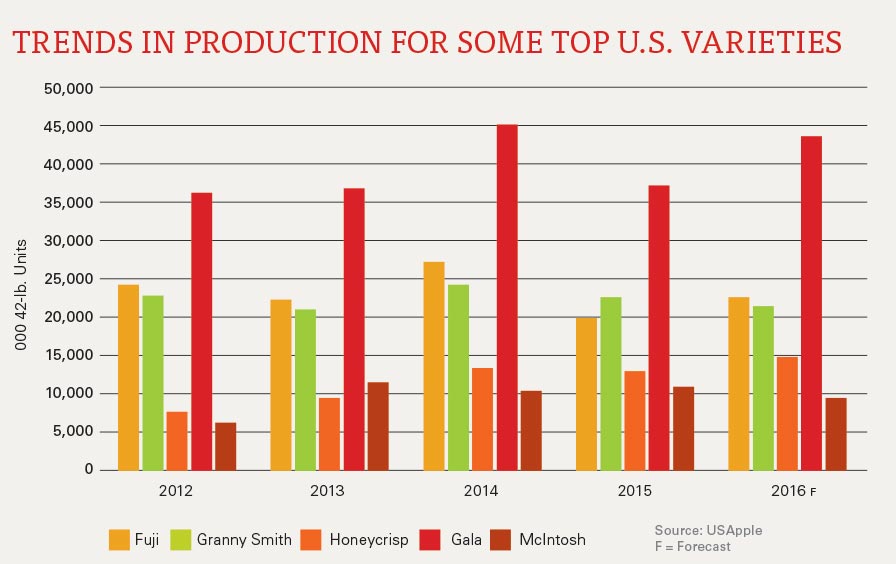 2016 Crop Forecast
The USApple forecast of 246 million 40-pound equivalents was just short of the USDA forecast of 248 million boxes. USApple has come closer with its forecast than USDA for the past four years in a row.
Most regions were at or above recent crop figures, with the exception of New York, which sustained a record-breaking drought in late summer/fall. Here's the national breakdown by region:
West: 158 million boxes, up 5% from 2015, down 1% from five-year average.
Midwest: 34 million boxes, up 20% from 2015, 34% over the five-year average.
East: 54 million boxes, down 10% from last year, 2% off the five-year average.
Here are the numbers for the top five states: Washington, 149 million boxes, 61% of nation's crop; Michigan, 31 million boxes, 13%; New York, 30 million boxes, 12%; Pennsylvania, 11 million boxes, 4%; and Virginia, 4 million boxes, 2%.
The Outlook Conference was attended by industry leaders from the U.S. and around the world from all segments of the apple industry, including production, packing, processing, sales, marketing, and new products. Every year, more than 300 of the industry's best and brightest gather at the conference seeking answers.