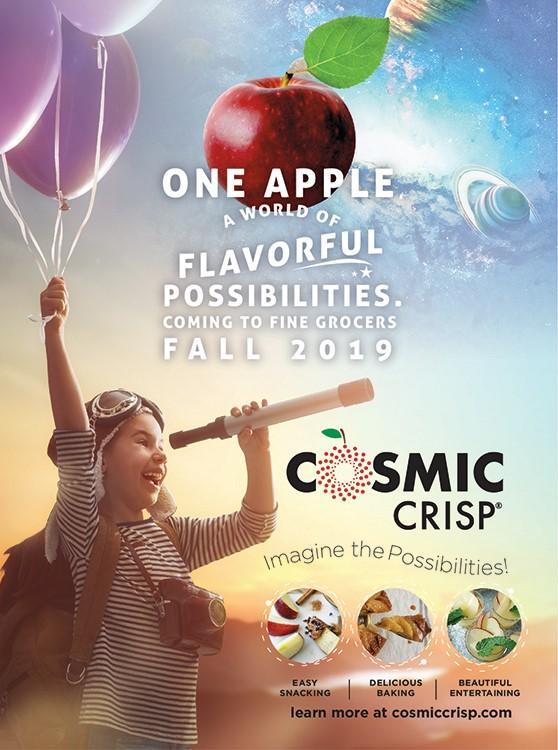 Proprietary Variety Management (PVM) is set to guide the release of 'WA-38,' an 'Enterprise' and 'Honeycrisp' apple cross  as 'Cosmic Crisp.' PVM is working with a $10 million-plus marketing budget, which the company says is the largest consumer launch in apple history. The 'Cosmic Crisp' retail launch will take place in fall 2019, and an estimated 2.2 million boxes are expected to be on the market in 2020.
The marketing theme is "Imagine the Possibilities." PVM says this theme directly ties to the innovation and the dedication of the breeders and growers who spent more than 20 years to cultivate 'Cosmic Crisp.'  PVM says the campaign speaks to this apple setting a new bar for flavor, presentation, and storage, as well as inspiring chefs, families, and apple lovers. More marketing information can be found at TheCosmicCrisp.com.
"Our goal is to inspire and educate people of all ages by using 'Cosmic Crisp' as a perfect example of big dreams becoming a reality," explained Kathryn Grandy, Director of Marketing for PVM. "We're long overdue for a campaign that highlights fresh produce and farming direct to the consumer in a way that excites the dreamer inside all of us," she added.
PVM is partnering with The Good Housekeeping Nutritionist Approved Emblem, Missoula Children's Theater, and The Produce Moms to help promote 'Cosmic Crisp' upon launch.