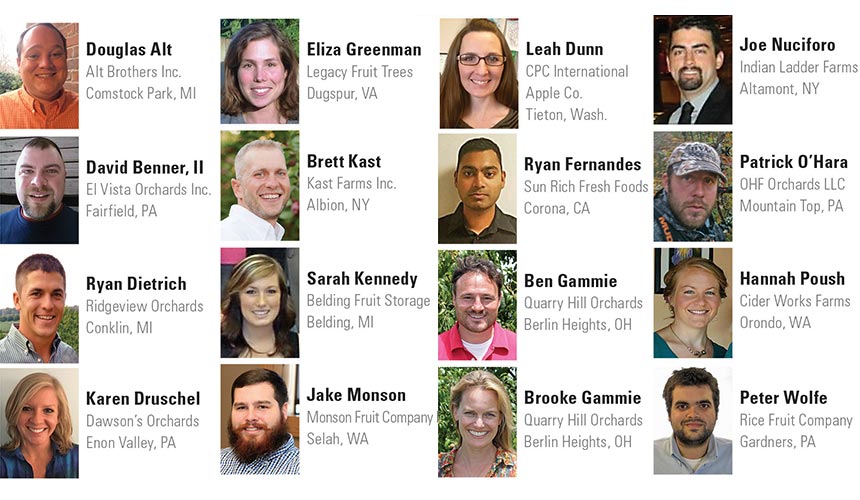 In its sixth year, USApple's Young Apple Leaders Program mentors the next generation of American apple growers and leaders. These young leaders will be the future decision-makers in their businesses, and communities, and at USApple.
The Class of 2015 Young Apple Leaders met March 18-20 in Washington, D.C. They joined the USApple Board of Directors and other apple industry leaders for Capitol Hill Day. The Young Apple Leaders talked with their representatives and senators about critical apple business issues, such as the need for a stable, legal agricultural workforce.
Meet this year's Young Apple Leaders:
Douglas Alt; Alt Brothers Inc.; Comstock Park, MI
David Benner, II; El Vista Orchards Inc.; Fairfield, PA
Ryan Dietrich; Ridgeview Orchards; Conklin, MI
Karen Druschel; Dawson's Orchards; Enon Valley, PA
Leah Dunn; CPC International Apple Co.; Tieton, WA
Ryan Fernandes; Sun Rich Fresh Foods Inc.; Corona, CA
Ben Gammie; Quarry Hill Orchards; Berlin Heights, OH
Brooke Gammie; Quarry Hill Orchards; Berlin Heights, OH
Eliza Greenman; Legacy Fruit Trees; Dugspur, VA
Brett Kast; Kast Farms Inc.; Albion, NY
Sarah Kennedy; Belding Fruit Storage; Belding, MI
Jake Monson; Monson Fruit Company LLC; Selah, WA
Joe Nuciforo; Indian Ladder Farms Inc.; Altamont, NY
Patrick O'Hara; OHF Orchards LLC; Mountain Top, PA
Hannah Poush; Cider Works Farms; Orondo, WA
Peter Wolfe; Rice Fruit Company; Gardners, PA
They gained an understanding of how federal regulatory and legislative issues directly affect their apple business. The days were also be spent networking with peers and learning from apple leaders from around the country.
Here are some comments from some of the young leaders from this year's class:
"I am very much looking forward to meeting with the representatives in Washington D.C. and discussing the issues we as an industry face as a whole. The Young Apple Leader program is a great opportunity and I am very thankful to have been one of the few selected."
— Brett Kast
"As a Young Apple Leader, I am looking forward to networking and establishing a working relationship with industry professionals and other Young Apple Leaders throughout the various production regions. Capitol Hill Day will be a great opportunity to learn about the current issues and how they are addressed in the areas of legislation, food safety, education, and nutrition. Furthermore, I hope to gain a larger understanding of the complexity of the USApple organization."
— Sarah Kennedy
"I'm looking forward to networking with other apple packers and finding out why and how they do what they do. I'm also looking forward to talking to growers about their experiences with different GAP and H-2A programs and how it's affecting their day to day." — Leah Dunn
"Participating in the Young Apple Leaders program is a real privilege, and I feel very fortunate to have this opportunity. I know that Rice Fruit Company has certainly benefited from the hard work of others who have ensured that the apple industry's voice is heard in policy matters, and I hope that being a Young Apple Leader this year will allow me to contribute to those efforts."
— Peter Wolfe
This program would not be possible without the support of our sponsors: BelleHarvest Sales, Inc.; Farm Credit East; Knouse Foods Cooperative, Inc.; Michigan Apple Committee; New England Apple Association; New York Apple Sales; Northwest Farm Credit; Ohio Apple Marketing Program; and Tree Top, Inc.
If you are interested in becoming a Young Apple Leader, or know someone who would be a strong candidate, applications for the 2016 Class of Young Apple Leaders will be available in October.