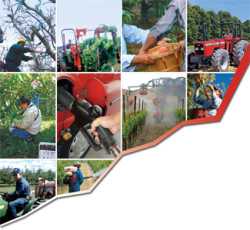 We all know fruit growing is an expensive business, especially given the time frame between making an investment in an orchard, and waiting for the return on that investment. But you're right if you think it's gotten more pricy than ever before, and the latest figures from USDA bear this out. The most recent "Farm Production Expenditures" summary from USDA's National Agricultural Statistics Service (available at www.nass.usda.gov) indicates that total farm expenditures hit a record $260 billion in 2007, up a whopping 9.3% from just one year ago, and almost 30% from five years ago. While these figures represent all of agriculture, the most significant jumps were in fuel and input costs — both of which are significant to fruit growers.
So how are today's fruit growers dealing with rising prices, and what are the short- and long-term challenges and solutions facing them? While there's no clear answer, we sought the input of a few of the nation's top growers, covering different crops and different geographic regions. We asked them to comment on three cost trends that are at the top of the list in terms of priority: fuel, inputs, and labor.
Fuel
Chain Reaction
The skyrocketing cost of oil has been rough on Washington's tree fruit growers. "We have to ship most everything," says Roger Pepperl of Stemilt Growers Inc., one of the largest tree fruit growers in North America. "We have a few urban markets, but everything else is a long drive."
Just one trip to the East Coast really adds up, says Pepperl. A truck traveling 3,000 miles that gets 6 to 8 miles per gallon will use more than 400 gallons of diesel, and that diesel's shot up $2 per gallon or more in the past year.
It's not just the cost of shipping that's gone up, either. Stemilt uses a lot of fuel in-house as well, whether it be tractor trips through the orchards or hauling in fruit. "Agriculture uses a lot of fuel, period," says Pepperl.
But it's not just fuel costs that have gone up, Pepperl says. Many of Stemilt's costs are tied in with the cost of a barrel of oil, from fertilizer to film used to wrap pallets. "It seems almost everything is oil-based to some extent," he says, "and that means almost everything is up."
The huge increase in the cost of oil would be a lot more painful if the prices weren't so good on apples and cherries, says Pepperl. "The diversity in apple varieties has helped keep the market dynamic," he says.
The percentage of Red Delicious has dropped each year for the past decade, and it's now down to only 22% of the state's crop. The current strains of Red Delicious are generally excellent, and combined with exciting new varieties, prices are great. "Apples are at historic highs," says Pepperl. "And that's on all varieties."
As for cherries, a huge crop was expected, but cold spring temperatures kept the bees from fully pollinating the crop. Partly as a result, cherry prices are also hitting record highs, says Pepperl. "A lot of that's due to supply," he says. "The high prices are more reflective of the market."
Making It Worthwhile
While large fruit growing operations have to deal with high fuel prices in regard to shipping costs, small growers are challenged with convincing consumers to make the trip to their farms. Apple grower and direct marketer Bill Erwin, Erwin Orchards, Inc. of South Lyon, MI, knows firsthand how difficult dealing with these challenges can be.
Fuel costs have skyrocketed because the staff drives their customers around the orchard on wagons. The orchard has also seen a decrease in business because consumers have less money than they did previously and cannot justify using fuel on long car rides.
To contend with the increased costs, Erwin has tapped into savvy strategies designed to entice consumers to his operation regardless of the distance. "The more we can keep our orchard in the minds of people, the better off we are," he says.
Erwin Orchards provides activities throughout the year, such as sending home a free bag of apples to every one of the 28,000 school children who visit the farm, and putting on an expansive Christmas light display in December.
Erwin hopes these activities will inspire children to convince their parents to visit the orchard no matter how much fuel costs rise.
Inputs
Avoid Cutting Back
The spring freeze that wiped out much of the apple and peach crop in the Southeast last year may have been a blessing in disguise, at least in one respect. According to Greg Nix of Apple Wedge Packers and Cider in Hendersonville, NC, fertilizer costs were not a big expense this year because there was quite a bit of reserve nitrogen built up into the soil.
Nix is a realist, however, and realizes that already soaring input prices are not likely to drop any time soon. He's looking for any short-term solution available, as long as it doesn't involve limiting his fertilizer applications. "At a time like this, you want to make sure you do the right job, and not cut corners," Nix says.
Leaf analysis and soil samples are two critical components of Nix's nutrient management program, because they can show you exactly which nutrients might be lacking. Another approach Nix takes is to look at all of the crop protection materials he uses, and weigh the cost of applying them versus the labor that would otherwise be involved. This is especially true when it comes to pruning or thinning materials.
Shopping Around
The skyrocketing cost of fertilizer and other materials used around the farm has made Mike Burden change the way he does business. Burden, managing partner at Lent-Burden Farming of Oakdale, CA, an American/Western Fruit Grower "Top Nut Grower," says that not too many years ago he didn't give fertilizing much of a thought. But that was when sulfate of potash sold for $390 a ton. Three years later he's paying $1,200 a ton. Even basic nitrogen has doubled in price in the past three years. It's now up to about $1 a pound, which is significant as his "hungriest" crop, walnuts, consumes 300 pounds per acre per year.
It's not just fertilizer that's gone up. Bees are expected to cost $160 per hive this year, more than double what they cost just four years ago. And a few weeks ago Burden paid $740 for a tire for a harvester. Last year he paid $580 for the exact same type of tire. "Almost $200 more in one year for the same dang tire," he says. "That's a killer."
The rising costs have changed other ways Burden does business. "We're shopping a lot more than we used to," he says. "We used to be faithful to one vendor, but now we're shopping at numerous vendors."
The rising costs extend to wire, which is now $1 a pound, up from 32¢ a pound in 2005. "We used to use four wires per (grape)vine, but now we're looking at maybe using three, or maybe going one gauge thinner," he says. "That's another one that's really slapping us in the face." Burden is also investigating other trellis designs for new vineyards in hopes of saving on wire. For products such as tires, he's trying to time purchases because such products might be cheaper at certain times of the year, such as in the winter.
Labor
Workers Are Back
The one good thing about the nation's economic problems in general, and the housing slump in particular, is that many of the labor shortages have disappeared. At least that's true for California, says Joe Zanger, a grower who's also a partner in a large market in Northern California, Hollister's Casa de Fruta. He remembers the labor crisis of a couple years ago all too well. "We had pears all over the ground in Lake County," says Zanger, noting that there was simply no one willing to pick the fruit.
But as construction has cooled off in recent years, many of the Hispanic workers who left agriculture to work in building trades have returned, says Zanger. "We're getting the sheetrock people picking fruit," he says.
In fact, Zanger says he's even seen the nation's home lending crisis have an effect on the labor market. "We're seeing landscaping people (looking for work)," he says, noting that a lot of homeowners are back to mowing their own lawns.
However, it's important for those in agriculture to recognize that the current situation represents only a temporary reprieve. The economy is cyclical, so construction is bound to pick up again in the future.
In addition, a lot of the older people working in agriculture will retire over the next few years, and they're not going to be replaced with younger people. Also, not as many workers will be able to gain entrance to the U.S. from Mexico, a traditional source of labor, especially in California.
Zanger says that it's critical that some legislation such as AgJOBS gets passed in the near future. If not, we will again see labor shortages. And if they're not rectified, a lot of the fruits and vegetables Americans consume are going to be coming in from other countries. "We have to eat," he says, "so if we're not growing it, we're importing it."
Look At Each Tree
As if labor crackdowns were not enough, there has been an upward pressure of wages, especially when it comes to the cost of harvest help, says Darrel Oakes of LynOaken Farms in Lyndonville, NY.
The biggest cost increases have come in transportation and in building more housing facilities. However, says Oakes, "I'm willing to accept this."
The key to dealing with labor costs, according to Oakes, lies in improving the number of bushels per acre. "The most important thing is to make sure you get a good return," he says.
Wendy Wilson, who handles the finances at LynOaken Farms, also points out the importance of calculating all of your potential harvesting costs ahead of time. "Once I know what's on the trees, in terms of crop load, I can then figure out what it will cost to pay everyone," says Wilson.