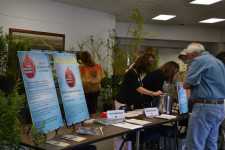 The first annual Florida Pomegranate Association was recently held at the Citrus Research and Education Center in Lake Alfred, FL. About 150 people were on hand to learn about the fledgling alternative crop.
As a new association, there was optimism among attendees, but also recognition that there's plenty yet to learn. After all, as Dr. Mongi Zekri, UF/IFAS, pointed out pomegranates perform best in cool winters and hot, dry summers – not typical of Florida's climate.
"We are excited about the turnout for our first meeting and the overall interest in growing pomegranates here in our state," said Cindy Weinstein, president of the Florida Pomegranate Association. Weinstein is a grower with four acres of the crop planted in which 75 varieties are being evaluated.
"I believe there is great deal of promise for pomegranates here in Florida," she added. "The dooryard plants that we've been studying closely have been doing really well."
Jeff Moersfelder, provided a rundown of the many different varieties of pomegranates that are available. He works out of Davis, CA, at USDA's The National Clonal Germplasm Repository. The Repository has a large collection of varieties from all over the world.
Moersfelder noted the Wonderful variety is now the standard in California, which is interesting because the wood for this variety's development came from Florida.
Seeking Florida Cultivars
"I guess you could say we are still on the steep part of the learning curve," said Bill Castle, professor emeritus with UF/IFAS. Castle founded the pomegranate association in March 2012.
"Part of the learning curve is continued evaluation of cultivars and finding those we think will work well in Florida," he added. "We are looking for consistency in yields, performance, and taste."
Based on his research and collaboration, which started in 2008, Castle made a recommendation of four varieties that growers should consider in Florida. The varieties are Azadi, Desertnyi, Medovyi Vahsha, Salavatski.
Health And Marketing
With its health benefits, the pomegranate has a lot going for it. Kathy Bryant, UF/IFAS, discussed her work collecting health benefit information that can be used in promotional efforts.
One medium pomegranate is only about 100 calories and is low in carbohydrates. It is an excellent source of vitamin C and K and is a good source of fiber. Bryant noted pomegranates are high in polyphenols, including flavonoids and tannins. These plant chemicals (also called phytochemicals) act as antioxidants, decreasing oxidation in the body and protecting cells from free radical damage. The antioxidants in pomegranates also reduce inflammation and may have antiaging effects.
With a healthy product to market, Lisa House, director of the UF/IFAS Agricultural Market Research Center, presented important considerations for marketing Florida pomegranates. She stressed the actual promotion or advertising of the product is only a small part of successful marketing. She illustrated this with the "4 Ps" of marketing: product; price; place (distribution); and promotion.
House said one of the foundations of a successful marketing program is having a firm grip on cost. "You must know your costs to be better able to control them," she said.
All of the presentations from the meeting will be posted on the Florida Pomegranate Association website in the coming days.