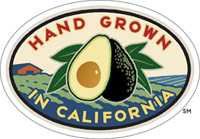 More and more, consumers want to know where their food comes from. Past attempts to legislate Country of Origin Labeling (COOL), most notably in the 2002 Farm Bill, may have failed, but that doesn't mean the issue's not important to consumers. The movement has many faces, such as consumers' desires to reduce their carbon footprints, but whatever you call it, it's growing. And the California Avocado Commission is planning to take advantage of it with a new marketing campaign: "Hand Grown in California."
A study conducted by Cooper Roberts Research, Inc. of San Francisco found that 54% of avocado buyers feel it is important that the avocados they buy are grown in the U.S. "That statistic is meaningful, but the fact that it represents a 25% increase from the prior year shows a significant change in the consumer mindset," says Jan DeLyser, the commission's vice president of marketing. "We combined this research with knowledge of shopper interest in locally grown produce, the emerging handcrafted and artisan movements, and consumer concern about carbon footprints to shape a marketing campaign highly relevant to today's primary avocado shoppers."
The study provided insight into what "Hand Grown in California" means to consumers, says DeLyser. Besides the fact that the fruit is grown in the Golden State, and that it is hand grown or planted, the phrase conveys the concept that it is grown by people, not by machines, and that it is grown with care. A simple concept, perhaps, but those that hit home with the most people usually are. Who better, then, to impart that message than some of the state's 6,000 avocado growers? "It's a response to the consumer's desire to know where the fruit was produced, and who produced it," says DeLyser.
The $6 Million Men
In the ads, the growers — and while the fruit is produced in Southern California, they are actual growers, not actors — simply tell their stories, DeLyser says. For example, one ad depicts a grower looking at one of his trees with an avocado in his hand. He talks about how as a boy he walked the groves with his grandfather, who instilled the importance of land stewardship. He also reveals that he got his first ag textbook from his grandfather, and he still uses that textbook today. "It shows they're in it for the long haul," says DeLyser, "and communicates their love of the land."
The commission will spend $6 million on the campaign, and that is just for the consumer ads, not for related public relations efforts and a campaign targeted at the food service sector, says DeLyser. Besides radio spots as well as print ads that will run in food magazines, there will be ads placed in shopping carts, a first for the commission. Another first for the commission is the use of television. The 30-second ads will appear, appropriately enough, on the Food Network.
The final piece to the campaign is online advertising. That's critical, says DeLyser, as the chef in the household is increasingly looking to the Internet for recipes. And that chef is quite often a man, and that man, research shows, really loves his avocados. In 1994, surveys divided up avocado users by those who consumed one to 12 each year on up to those who consumed more than 36 per year. But consumption has risen so sharply that they had to reconfigure the survey's breakdown. Now the top tier includes those consumers whose households eat 120-plus avocados each year. Those "super-consumers" now account for 31% of all consumers, and many of them are men.