You might know Jeff Crist from his many trips to Washington, DC, representing the U.S. Apple Association on critical issues such as labor reform and disaster relief. Or, if you're close to his home state of New York, you might know him from his work in the state capitol, fighting for the needs of other growers in his state. Perhaps you've heard about his efforts to improve marketing programs and help growers get a fair return for their product.
In other words, you might be more familiar with the industry activist side of Jeff Crist. But rest assured, he didn't get to that point by acting as an outside observer. On the contrary, it's his years of experience growing up on a family farm, and his strong desire to use this experience to grow high-quality fruit, that have helped him emerge as a leading figure in the apple market.
It is also these traits, among many others, that have made Jeff Crist of Crist Brothers Orchards in Walden, NY, the 2007 Apple Grower of the Year. This award, with a 19-year history that invokes the names of standard-bearers like John Rice, Grady Auvil, and Doyle Fleming, is presented by American and Western Fruit Grower and sponsored by Cerexagri-Nisso LLC (which was recently purchased by UPI, or United Phosphorus Inc.). Crist has made a strong name for himself based on his tireless efforts to lead the apple industry into the 21st century, but it all starts in his own back yard.
The Big Picture
Crist will attest to the fact that he is a "broad viewpoint person," someone who prefers to look at apple growing from the big picture. Perhaps this comes from his upbringing working on the farm owned by his father Edward and his uncle Roscoe, a former Apple Grower of the Year winner himself.
"They were the original Crist brothers, and they took the farm [founded in 1883] from a smaller, one-man show, to the next level," he says.
While studying pomology at Cornell University, Crist spent his summers working on the farm, wondering, like anyone his age, if he was suited for a life in the orchard. Fortunately, during his last year of school, his uncle suggested that he rent one of the farms owned by his family, and operate it himself. "It made me my own boss," says Crist, and it gave him the confidence to form a three-way partnership with his father and uncle when another orchard in the area became available. From there, his career in apples took off, and he's never looked back.
Today, Jeff Crist and his wife Joy are co-owners of the orchard, located in New York's Hudson Valley, about 70 miles outside of New York City. Joy grew up on an apple farm herself, just a few miles up the road, and she oversees the packinghouse and office activities.
The Crists have three children, and Crist's big-picture attitude seems to have rubbed off on them. His daughter Jennifer just graduated with an economics degree from Dartmouth, and part of her studies included a research project on the Capper-Volstead Act of 1922, and its influence on the formation of apple cooperatives in New York and Washington. She recently took part in an internship with the Washington Apple Growers Marketing Association, and is staying in agriculture after starting a position last month with First Pioneer Farm Credit.
Their son Joel is in the agribusiness program at Cornell, and is currently studying under tree fruit industry leaders such as Jim McFerson and Don Elfving at Washington State University. Their youngest son, Jedidiah, is just going into high school. While all their children have ties to fruit growing, Crist notes that, "With worldwide trends influencing agriculture, young people need to get out and see what's going on in other fruit-producing areas around the world before they come back to the farm."
From Planting To Marketing
On the farm, Crist sees site selection as the most important tool for producing good-quality apples.
"One of our goals is to continue to upgrade our sites and eliminate the poorer sites, and that's been ongoing for several years," says Crist. "We are very particular about our growing practices, and we're constantly updating our plantings."
With the mindset of growing the right variety, on the right system, that will give the right color and size, he recently planted Jonagold, Honeycrisp, and Gala on a new farm that was purchased last year. He uses drip irrigation on about 60% of the acreage at Crist Brothers, which "gives us the ability to put water on the tree when we need it. From an environmental and conservation standpoint, it's worked very well for us," he says.
He is also a strong believer in the benefits of using SmartFresh on most of his apples. "It's been a very strong advancement in the apple industry to help us deliver a better product than we used to," he says. "Consumers are expecting a better product, and they'll expect a stronger product tomorrow than today. This requires diligence and assurance every step of the way."
Decisions on replanting are based on age and marketability of the variety, and the ability to connect the climate to the variety. "In one case, on a new block we planted, I didn't realize the extent of the southern slope on the impact of the microclimate in that block," he says. "When I go to replant it, I know that Gala and Fuji tend to like the heat more than other varieties. We've focused on doing a better job on putting a variety on the site that would work the best."
Aside from the horticultural aspects of apple growing, Crist's passion lies in analyzing effective marketing strategies. Once again, he favors the big-picture approach. As a wholesaler, he has sales and marketing agreements with two Northeast-based organizations, and distributes throughout the East Coast and Midwest, although not to New York City.
While Crist doesn't have the volume to offer a steady supply throughout the year, he understands the value in forming relationships with marketing organizations across the country.
"If we help make a strong market for them, they can ride a portion of that," he says. "If the quality's high, it will help the whole category."
In line with his broad view of the industry, he thinks partnerships will develop more and more, right down to actual marketing with specific customers like Wal-Mart, who are looking for local and regional supplies but are also trying to plan for the whole year.
"Growers and packers need to look at those opportunities more and more as we go ahead," he says. "For some of these retailers, price is important, but so is a good reliable product and supply. That scared us at first, but it's worked in our favor."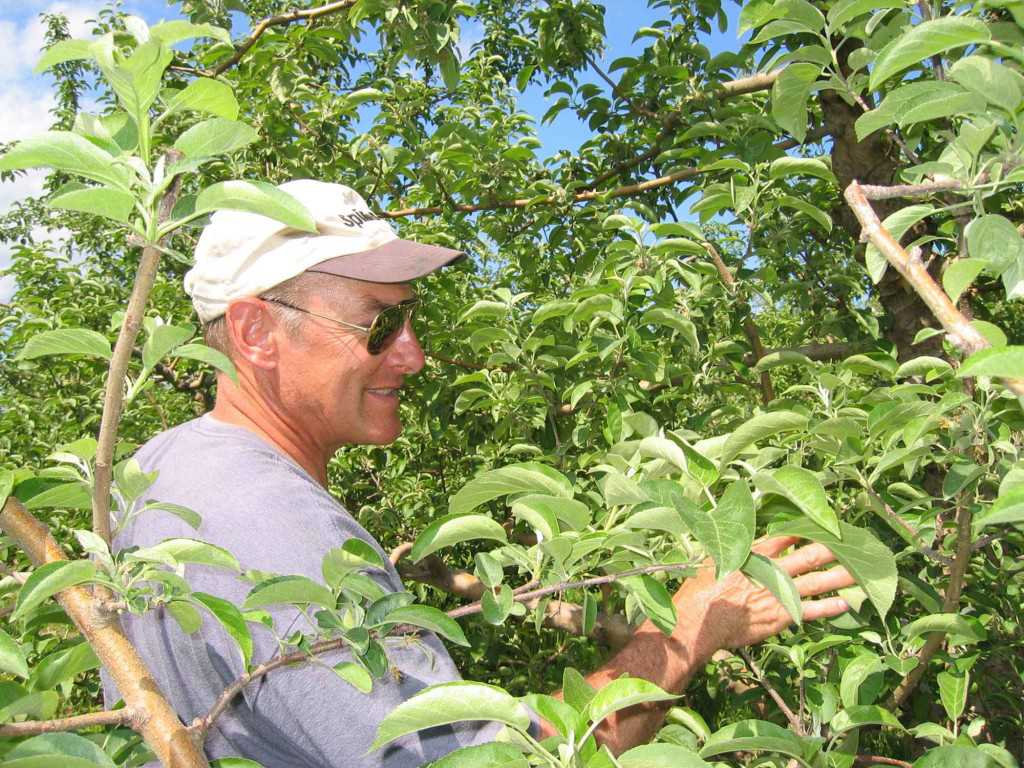 Stand Tall Together
Crist points out three primary factors that have helped him maintain a successful apple growing business: his education at Cornell, family ownership of the farm, and his ability to stay involved and donate his time in the industry. The list of local, state, and national organizations that Crist is involved in includes:
– U.S. Apple Association (trustee and past chairman)
– New York Apple Association (past director and past chairman)
– USDA Fruit & Vegetable Advisory Committee (past member)
– New York State Apple Marketing Order Advisory Board (past member).
– Ulster County Farm Bureau (member and past director)
He sees the labor issue, and the inability to pass a guestworker program, as something that puts the industry in a very precarious position. "If you invest in a new crop, and you can't harvest it, that puts you in what I consider a business-ending potential," he says. Along with labor, he notes the importance of continually developing the marketing side of the industry. "If we don't have labor or decent marketing, it doesn't hardly matter what else we do," Crist says.
It might to hard to quantify how Crist's involvement in the industry helps his own business, but the word "priceless" comes to mind.
"I think it's one of the things that has the best payback," he says. In particular, he notes that working with state and national associations has helped secure funds for consumer advertising linked to health benefits, improving diets, and the war on obesity. "This helps with our marketing right here on the farm, and I think it's our future."
Crist also served on the last round of USDA's Advisory Committee on fruits and vegetables, which "gave me the ability to represent the industry and help guide some of those programs and how they were handled."
But again, all this effort goes back to the orchard, and it is here that Crist can reap the benefits of his efforts. "I'm just trying to do the best job I can, day in and day out." His peers in the industry might offer their thanks to him for this.