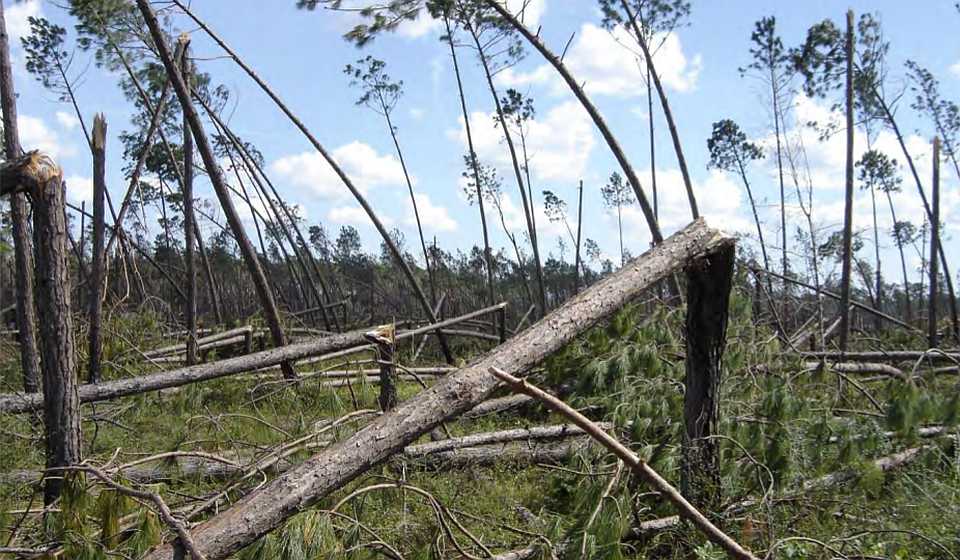 [Updated Oct. 23] For the third year in a row, Floridians are finding themselves picking up after a hurricane. Hermine and Matthew (2016), infamous Irma (2017), and now Michael has been added to the Sunshine's State's unwanted visitor log.
Michael, seemingly trapped in the Gulf of Mexico, tapped extremely warm waters for super power and made its escape by delivering a direct blow to the Florida Panhandle and Big Bend area before racing northeastward over Georgia and beyond to the already beleaguered Carolinas.
The massive storm rapidly burgeoned to Category 4 status and was just shy of a Category 5 at landfall. Michael will go down as one of the strongest hurricanes to strike the Continental U.S.
Early damage assessments are just beginning for affected farmers. In a statement, Florida Commissioner of Agriculture Adam Putnam offered the following: "We'll continue to work with the industry and partners at the local, state, and federal levels to fully assess the agricultural damage."
The Florida Department of Agriculture and Consumer Services has since announced the estimated value of timber damage in Florida due to Hurricane Michael is $1.3 billion, impacting nearly three million acres of forestland.
In addition to timber, other commodities devastated by Hurricane Michael include: poultry, peanuts, dairy, cotton, tomatoes, and aquaculture.
Alan Hodges, UF/IFAS Food and Resource Economics Extension Scientist, says even though he and his team are still waiting on damage reports for specialty crops, there is enough historic data to paint a picture. "We believe about $170 million in vegetables, ornamentals, fruits, and nuts in Florida were potentially affected by the hurricane, including $50 million within the core area experiencing catastrophic hurricane force winds," he explains. "In past major hurricanes, such as Irma last year, we saw crop losses of 45% to 90% in areas with Category 1 to 3 winds."
Georgia on Our Mind
Hurricane Michael's wrath wasn't confined to just the Sunshine State. The storm dealt a massive punch to the Peach State as well. "It's a very serious day for agriculture," Georgia Agriculture Commissioner Gary Black said in a news conference alongside Gov. Nathan Deal.
Early observations show Georgia's cotton crop was particularly picked on by the devastating storm.
USDA Secretary Sonny Perdue hosted a briefing with Vice President Mike Pence to get feedback from Commissioners Putnam and Black, as well as other stakeholders. Perdue tweeted: "USDA stands ready to aid those in need."
It will most likely be several weeks (or months) before government program assistance could be made available — if at all — warns Charles Hall, Executive Director of the Georgia Fruit and Vegetable Growers Association, in an industry alert. "You need to have lots of pictures of your damaged fields, piles of debris cleaned up, product discarded. Along with financial records of repair, cleanup, and other costs associated with the hurricane damage, document-document-document."
For post-storm aid, Hall noted the Emergency Conservation Program (ECP), which helps farmers repair damage to farmlands caused by natural disasters.
Other useful post-storm resources include:
Alabama Ag Not Spared
Hurricane Michael's misery spread far and wide, including Alabama. According to Alabama Cooperative Extension System Director Gary Lemme, the storm caused almost $204 million in agricultural damage alone as it moved across the state.
While cotton was the biggest loser in Alabama, smaller-scale, specialty crop growers also felt the wrath. Lemme reported: "One grower lost his entire cucumber crop. Tomato growers are looking at losses in the 60% to 75% range. Combined with greenhouse losses and pecan losses, the storm destroyed another almost $3.5 million."
This article will be updated as more details develop.