The start of a new season is a good time to double-check your fertilization program to make sure your trees receive optimal, but not excessive, fertilization. Orchard fertilization can affect nutrient concentrations in fruit and leaves, and this not only has implications on crop yield and plant health but also can have a significant impact on fruit quality and postharvest storage potential. Current fertilization practices in commercial orchards often lead to excessive applications due to overestimating tree needs and the relative low cost of fertilizers.
Excessive nutrient supply may cause vegetative growth that leads to internal canopy shading, which could reduce flower bud production for next year's crop and negatively affect the color development of shaded fruit, ultimately reducing fruit quality. Furthermore, high levels of N fertilization not only reduce the sucrose and malic acid in fruit but also may diminish fruit flavor by reducing sweetness and aroma. To improve tree health, crop yield, and fruit quality, it is important to study the nutrient concentrations and allocation patterns in fruit trees and improve orchard fertilization.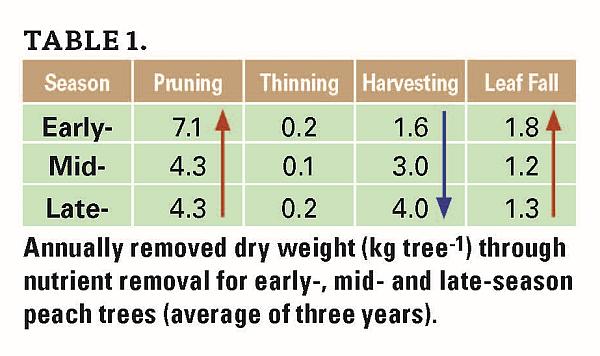 New Methods to Determine Fertilization
Orchard fertilization rates are usually adjusted based on field soil testing results, soil type, and cropping history. However, experiments we conducted at Clemson University's Department of Plant and Environmental Sciences suggest that peach tree fertilization programs also should be adjusted according to tree age and the ripening time of the tree. Over the past four years, we have been studying nutrient requirements of peach trees of different ages and ripening time: younger, mature peach trees (6 years old) and older trees (20 years old) to explore the influence of tree age, as well as mature peach trees of different ripening times (early-, mid-, and late-season).
We measured N, P, K, Ca and Mg concentrations in pruned wood, thinned fruitlets, harvested fruit, and fallen leaves. We calculated the total amount of nutrients lost through each of these nutrient removal events and compared the nutrient allocation patterns among peach trees of different ages and ripening times. The experiments were conducted at the Clemson University Musser Fruit Research Farm in Seneca, GA, and all trees were pruned every year at the beginning of February before bud break. Fruit thinning was carried out manually at the beginning of April (when fruitlets had an approximate diameter of 30 mm). For collecting leaves fallen in autumn, each tree was covered by a mosquito net between September and December.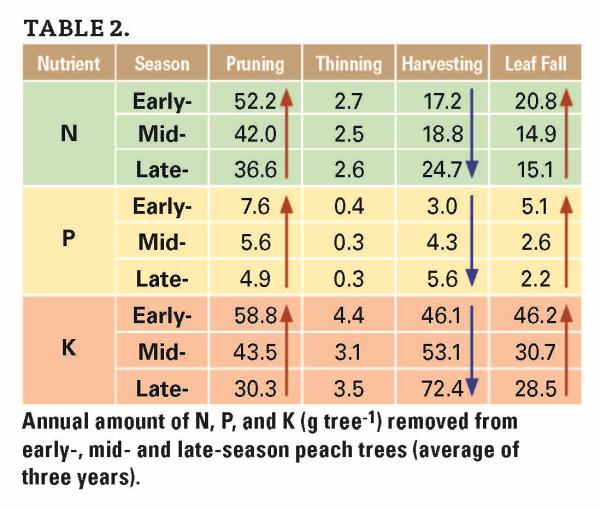 Promising Results
Preliminary research results showed the majority of nutrients that peach absorbed from the soil were lost through pruning, with an average of 51%, 47%, and 34% of the total amounts of N, P, and K removed from the tree, respectively. Under the same fertilization conditions, early-season peach trees had more pruning wood and fallen leaves dry weight but less harvested fruit dry weight (Table 1). Early-season peach trees lost more nutrients through pruning and leaf fall but fewer nutrients were removed through harvesting compared to late-season peach trees (Table 2). Early-season peach trees also had higher nutrient concentrations compared to late-season peach trees (Table 3).
Furthermore, we found that tree age also could affect nutrient allocation patterns: old trees with larger canopies allocated more nutrients to leaf fall but less nutrients to pruning compared to younger, mature trees. This could change the leaf/wood ratio of peach trees and further affect the nutrient recycling efficiency and ultimately impact nutrient requirements of peach trees of different ages.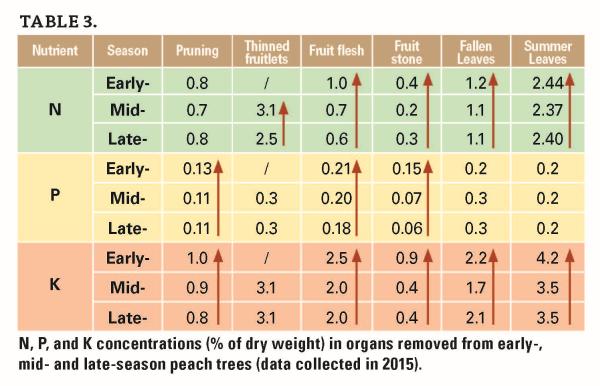 Overall, the ripening season and tree age affect peach tree mineral concentrations and nutrient allocation and, consequently, nutrient requirements will be different for these trees. We are still working on these experiments, but preliminary results strongly suggest that growers should consider the ripening times and ages of their trees when planning their fertilization program.