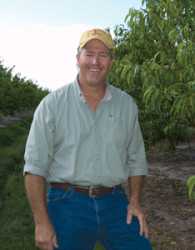 There is a lot of interest in peaches around Florida, and more information and research is being developed to help growers in their quest to launch an industry here. But, like in all endeavors, the best knowledge is developed from hands-on experience. Ralph Chamberlain was among the first growers to plant peaches after this renewed interest in the crop took hold. In fact, Florida Grower featured his peach operation as the May 2009 cover story.
With nearly seven years of peach experience under his belt, he has a number of observations to share with growers. His first bit of advice is don't take the decision to plant peaches lightly. It is hard work — much more so than citrus — and it is not always the cash cow many people believe.
"Growing peaches has been the best and worst of experiences," says Chamberlain. "We made money three years ago but sustained wind damage two years ago and freeze damage last season to prevent us from achieving a profit. My current thought process is one year out of three we will make money with the other two experiencing some kind of weather calamity."
Taste And Market Advantage
Chamberlain says a Florida-grown peach might be the best you'll ever taste. That's because varieties are picked tree-ripe and have a high brix. And, those tasty peaches fall in a perfect market window between competing regions, resulting in pricing higher than any other peach grown in the U.S. on a commercial scale.
But, a tree-ripe peach comes with one caveat. "You better get your butt out there and pick fruit when it is ready, not necessarily when you or the weather is ready," he says.
Production Pros And Cons
Peaches grow like a weed in Florida, making early production possible. According to Chamberlain, another pro is peaches only require about 85% of the water needed for citrus. Once harvest is complete, production is mainly hand labor and fungicide sprays in the rainy season to control leaf rust.
Chamberlain's con list is a bit longer, illustrating the challenge of growing peaches in Florida. "Yes, your trees will grow like a weed, but that is only impressive when you've just planted," he says. "As you get a few years on your trees, you realize that you need to maintain all the excessive growth and cut it out, which increases your labor cost."
Next, peaches are unforgiving when they get wet feet. "I learned this the hard way with a 5-inch rain that saturated the ground, and I did not get the water off fast enough," says Chamberlain. "I lost acres of trees in a one day from an afternoon rain shower. Plant where you have well drained soil."
Chamberlain says he prunes his peaches twice per year (June and December), which requires more hand labor. "Cost associated with pruning is roughly $250 to $450 per acre pruned," he says. "And, you do this two times per year."
Fruit thinning is another critical element in Florida and it's an art and science. The trick is waiting as long as possible to help lower hand labor costs as much as possible, but not too long. Waiting too long results in the inner pit hardening and smaller fruit size. Another issue is that Florida peaches have two to three distinct blooms, meaning hand labor crews will have to be brought in more than once. "Your goal is to go from 2,000 to 3,000 fruit per tree to around 300 to 400," says Chamberlain. "I've learned managing your crop load is more important than fruit spacing."
During harvest, growers will need to be prepared to spray for brown rot, stink bugs, and fruit flies. "In my southern Florida growing area, we are usually applying every seven to 10 days with OMRI-approved product because of re-entry intervals," says Chamberlain.