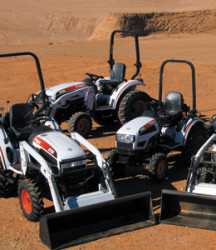 Nine models comprise a new line of compact tractors from the Bobcat Company. The Bobcat CT120, CT122, CT225, CT230, and CT235 are currently available at select Bobcat dealerships in the U.S. and Canada. The four remaining models will be introduced throughout the year.
All the tractors in the line have sleek hoods and side panels made of steel. Their design provides superior visibility to the front of the tractors.
The tractors feature four-wheel drive for traveling over and working in rough terrain. In addition, they come with hydrostatic transmissions for easy operation.
In addition, the tractors can be used with Bobcat implements, including an angle blade, auger, backhoe, box blade, finish mower, seeder and tine rake, as well as a front-end loader and attachments. The roll-over protective structure can be folded down to make transportation and storage of the tractor more convenient.
For more information, visit Bobcat Company's Web site, www.bobcat.com.