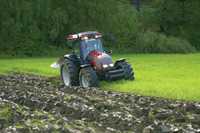 Valtra Series tractors from AGCO feature new engines that run cleaner, quieter, and cooler. The three- and four-cylinder Tier 3 emissions-compliant engines are environmentally friendly and are more fuel efficient and more biodiesel friendly, as well. The new A Series tractors with a basic mechanical fuel-injection system and two- and four-wheel drive models also feature a driver's armrest with joystick controls as standard.
The three models in the A Series use the synchronized 12 F+12R transmission with mechanical forward/reverse shuttle. With three ranges and four main gears, including creeper gears, this proven transmission offers growers a high degree of dependability and efficiency.
For additional information, go to www.agcocorp.com.