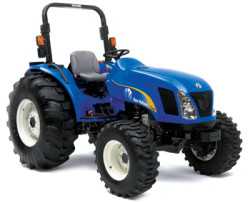 The new T2410 and T2420 Boomer compact tractors from New Holland, with 55 and 60 horsepower and maneuverable frame size, work well for vegetable growers. These tractors feature good ergonomics and visibility, best-in-class serviceability for easy maintenance, and efficient hydros. Energy-saving features include the SuperSteer tight-turning front axle and Sensitrak, a system that automatically engages four-wheel drive when necessary. Both tractors are ideal for loader and blade work and mowing.
The Boomer comes standard with a 12×12 Synchro Shuttle Shift transmission that allows the operator to shift between forward and reverse without needing to completely stop. Operators can upgrade to the 12×12 Electro-Hydraulic Shuttle Shift, which also allows shifting without stopping, as well as a wide range of speeds. Both transmissions have a left-hand shuttle lever, making it easy to shuttle without needing to take your hand off the steering wheel.
For easy maintenance, oil levels of both tractors can be checked without raising the hood or removing the loader. The sloped hood design provides operators with best-in-class visibility.
For additional information, contact New Holland at 888-290-7277 or go to www.newholland.com.