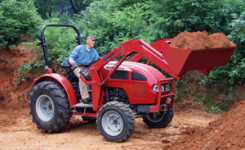 Mahindra USA, introduces its newest tractor, Model 2525. Boasting a 25 horsepower engine and lift capacity of 1702 pounds, the new model is said to offer an ideal combination of power, maneuverability, ease of operation, and quality.
This three-cylinder, ergonomically designed tractor features a four-stroke, water-cooled, direct-injection diesel engine. Standard features include a rollover protection system that can be tilted, four-wheel drive, safety switches, and a forward/reverse synchro shuttle with eight forward and eight reverse gears for ease in shifting and better fuel efficiency. In addition, the new model offers convenient hydraulic control placement and an easily accessible platform.
For additional information, go to www.mahindrausa.com.