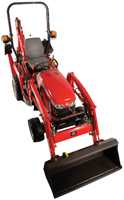 The 22.5 hp subcompact tractor models GC2400 and GC2410 and the 25 hp GC2600 and GC2610 from Massey Ferguson provide small growers with a machine that works like a full-size tractor while offering the agility of a subcompact.
The new styling shares the look of larger Massey Ferguson 2600 and 3600 Series utility tractors. The taller hood raises headlight placement for improved views in low light. The dash has been reconfigured to offer more and easier-to-read illuminated analog functions for tachometer, fuel, and engine coolant gauge. The bulk of the changes are designed to enhance operator convenience.
For more information on Massey Ferguson visit www.masseyferguson.com.