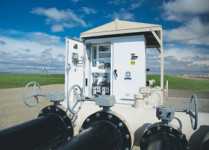 Customized Pump Stations
A fully-integrated pump station and center pivot control package manufactured by Lindsay's Watertronics subsidiary allows growers to operate multiple irrigation systems from a single pump station. These control packages can be installed on both new and existing Zimmatic systems as well as on systems from other manufacturers. The customized pump stations are designed to help growers save on energy, water, and labor.
The pumps are controlled automatically to provide water through the most efficient means possible and only according to your irrigation system demand requirements, saving up to 25% on water costs.
For more information, go to www.zimmatic.com.
Drip Irrigation Technology
Toro Micro-Irrigation recently launched Aqua-Traxx with the PBX Advantage, one of the latest in drip irrigation technology. With the PBX emitter, growers have a tool that helps them achieve higher crop yields, better plant quality, and more uniform plant growth, according to Toro.
With Toro's Aqua-Traxx PBX, emitters in seamless extruded tubes are available at any emitter spacing without any additional cost. Aqua-Traxx PBX drip tape is said to be more clog resistant and deliver water uniformly to every plant, regardless of the chosen emitter spacing. In addition, Aqua-Traxx drip tape is sold by the foot, not the emitter, so growers can choose emitter spacings anywhere from 4 inches to 24 inches, based upon their desired wetting pattern, not cost.
For more information, go to www.toromicroirrigation.com.
Valve Controller
The Nelson 8200 Series Valve Controller has been developed to automate solid-set sprinkler irrigation or drip irrigation of vegetables. It is very simple to set up and operate, thus opening up the automation option to all agricultural irrigators. Automation combined with good record keeping are tremendous water saving tools. Applications of the 8200 Series Controller have removed human error out of the execution of the irrigation schedule.
The 8200 Series Controller can turn on up to 10 valves at the same time. It will data log and record all irrigation events for the entire year and the data is easily down loaded onto a lap top computer.
For more information, go to www.nelsonirrigation.com.