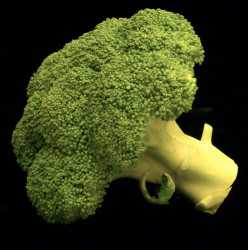 Successfully growing broccoli in the Eastern part of the U.S. is a challenge. Growing conditions in the East can be unpredictable, whereas growing conditions in California provide a steadier climate for cultivation.
If ever there was compelling motivation for East Coast vegetable growers to plant broccoli, it may have arrived as fuel prices are increasing as well as consumers' interest in reducing carbon footprints. Bolstered by market potential, a $3.2 million USDA grant, and supplemented by $1.7 million in matching funds from participating companies, a Cornell University-led project aims to solve this dilemma with some varieties that are suitable to cultivation on the East Coast.
Officially in phase three of the project, and in its third year, researchers are getting a good indication of the varieties that are working and the ones that are not faring as well.
"We have produced quite a large number of experimental hybrids, both in the public breeding programs and in the commercial programs," says Thomas Björkman, associate professor of vegetable physiology and the project director at Cornell. "We are evaluating several dozen of the new ones in our regional screening trial. At that stage there may only be 100 seeds of that hybrid in the whole world.
"We saw some strong performers in the 2012 screening trial and we have advanced about 10 to more exhaustive evaluation," he continues. "We have also had the good fortune to discover that some materials in the [seed] companies pipelines had merit, and there are a few in commercial distribution this year."
Move To Year-Round Production
The ultimate goal of the project is to extend the broccoli season past the general parameters for each location in order to create year-round production on the East Coast. Five test locations cover varying growing conditions including latitude, altitude, temperature, soils, and other atmospheric variables, says Björkman.
Using many sites provides the research team with information on how widely adapted the varieties are and how they respond to the seasonality of the East. This information, in turn, gives researchers an opportunity to make more effective genetic selections.
"Producing relatively large quantities of hybrid broccoli seed is not a simple process," says Mark Farnham, research geneticist, USDA-Agricultural Research Service Vegetable Laboratory, and a part of the research team. "It usually takes some specialized growers and specialized operations."
The summer, says Farnham, is the biggest problem for growers in the East. "Typically, you start in the warm months and you finish before the coldest months of the winter hit," he explains. "If we could get varieties that are better adapted to high temperatures, we may be able to push it further South in the Northeast, like New York, for instance, where they could actually produce in the summer."
Björkman says the research team is working with growers in the East to determine if they are able to extend the growing seasons with some of the new hybrids of which there are enough seeds.
"That gives [the growers] an opportunity to consider how extending the broccoli season will affect the seasonal practices on their farm and how it will affect their marketing," he says. "They should be in a better position to expand their production once even more resilient varieties are available commercially."
Postharvest Concerns
In the three years of the project, Björkman notes that postharvest handling issues have been a concern.
"First, broccoli growers, like everybody else, need to find handling practices that meet the new food safety requirements," he explains. "Second, [they need] a cooling system that is suited to broccoli and is cost-effective for the scale of production. The quality standards for broccoli in the markets are very high, so new growers need to identify close to optimal handling practices if they are to compete."
Ultimately, though, the Eastern Broccoli Project does not want to directly compete with the broccoli industry in California. "The hope is that you're really not becoming a big competitor with California," says Farnham. "Rather than take away production from one person or another, we're just allowing new people to come in and take advantage of a growing marketplace."