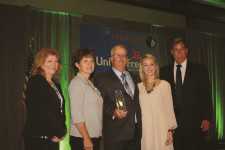 "It is very gratifying and overwhelming," said American Vegetable Grower's 2012 Grower Achievement Award recipient, Steve Lyles of Steven Lyles Farms in Las Cruces, NM. "It is a very exciting honor."
Lyles made these statements immediately following the award presentation at the United Fresh Washington Public Policy Conference on Oct. 3.
Lyles, who began his operation more than 25 years ago with just 10 acres
of vegetables, grew his operation to about 1,000 acres in seven years.
According to the person who nominated the farm, Bill Cox of Coxco Ag Services, Lyles turns challenges into opportunities. He takes great pride in increasing efficiencies on the farm in the areas of planting, irrigating, and food safety.
In fact, Lyles says food safety and implementing protocols are some of the biggest issues he currently faces. "We need to make sure all the crews are following the food safety laws," he explained. "It takes a lot of time, supervision, and a lot of training."