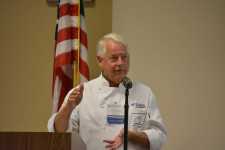 The fifth annual Florida Small Farms and Alternative Enterprises Conference drew growers from across the state to Kissimmee's Osceola Heritage Park. The event has become known as a great educational and networking resource for smaller farmers.
Concurrent sessions addressed food safety, production, marketing, and livestock. In addition, attendees had opportunities to tour a number of nearby local farms. About 650 people were on hand at the recent gathering to take advantage of the conference.
Farm To Everything
One of the hottest trends in higher-end restaurants these days is sourcing local, fresh produce and meats to serve its patrons. The trend is providing smaller growers new marketing opportunities for their goods.
A special session featured a "A Chef's Perspective On Market Opportunities" during the conference. It was well attended by growers eager to get their foot in the restaurant door. Chef David Bearl was on hand to describe what he looks for in locally grown foods. Bearl is a certified chef and currently works with the University of Florida as a culinary educator and ambassador.
He encouraged growers to seek out chefs to build relationships, which could pay dividends down the road. Having been involved with culinary arts all his life, Bearl noted it reminded him of local farm co-op movement of the 1970s.
"The local food movement has come back around and what has happened in the last few years is so exciting," he said. "This whole idea of 'farm to' — farm to table, farm to fork, farm to school, it is like what was happening in the '70s has come back and come back with legs.
"You open any major food magazine and it is all 'farm to.' Everything has a farmer in it, and everybody is trying to connect back to the farm. So this is a wonderful opportunity for everyone who loves good food."
The market potential of local farm visits/marketing is huge says Chef Bearl #FLsmallFarmsConf

— Frank Florida Grower (@FrankFLG) August 3, 2013
What Chefs Want
Bearl noted the importance of delivering fresh produce to the restaurants, after all, this is the essence of the buy local movement. But, it can be challenge for a smaller grower. He recalled working with a local organic grower years before.
"This grower was the only organic grower in the county at the time," he said. "He delivered nice kale, but it was not pretty kale because it was not pre-cooled. So, the challenge for the grower is how are you going to take that crop out of the ground and get it cooled right away and get it from the field to the plate as soon as possible?"
Another important consideration when working with local restaurants is distribution. "How are you going to get that produce to the chef when he can't always get to you?" he asked.
Like in all relationships, communication with your chef is key. "You need to communicate to these chefs very well what you have and what size it is," said Bearl. "What is their menu and how does it fit your product? Get them to come out to your farm to see what and how you grow."
Consistency in size of the produce is especially important with certain dishes like salads and soups. Bearl reiterated the importance of quality. "What happens sometimes when buying local is the chef gets a little disgruntled because the quality (and produce size) is not consistent," he said. "Then they go back to a Sysco or FreshPoint because they can count on consistency."
Bearl encouraged growers to create a point-of-sale piece to help market their farm to chefs. That same information can be used in the restaurant to promote its locally grown dishes. "Do your family history on one page of paper with a picture of the farm," he said. "If those customers see a picture of your family and farm and learn a little about you, it will be really helpful in marketing."
Make A Connection
"How do I find chefs excited about food?" Bearl asked. The question captures another challenge growers may run into — simply finding a restaurant to work with. He said look for chefs who love food and have put in the extra time and work to get certified.
"There are about 50,000 chefs that are certified in the U.S., and there are about 2 million chefs that use the title, but are not certified," said Bearl. "Has anyone heard of the American Culinary Federation? This is where you find those chefs that love food. Go to their website (acfchefs.org) and find a chapter near you. Go to their meetings. They have them every month.
How can a farmer find a chef? No. 1 The American Culinary Federation and No. 2 local culinary schools.

— Frank Florida Grower (@FrankFLG) August 3, 2013


"The American Culinary Federation is the only organization that certifies chefs. If someone has gone through this process, there is a reasonable chance that they love food, because they have done something extra to get the certification."
Bearl added local culinary schools can be a place to establish relationships with chefs and even high schools where culinary programs are taught.
Food Safety Times Three
"I would say food safety, food safety, and food safety are at the top of my list," said Bearl.
What is most important to Chef Bearl? Food Safety and Freshness… #FLsmallFarmsConf

— Frank Florida Grower (@FrankFLG) August 3, 2013
"It can't be emphasized enough. For chefs, whether it is competition or certification, the first consideration for pass or fail is food safety. Chefs are just like growers — we don't want to poison anyone. If we do that, we are looking for another career."