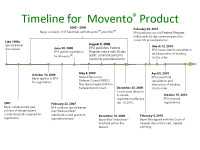 The introduction of a new pesticide, Movento, that was just registered this past fall — for the second time — has really been something of a roller coaster ride. But thanks to the support of growers, consultants, researchers, commodity groups, and even a couple of states' departments of agriculture, the ride appears to be smoothing out nicely. In the end, about 100 people, many representing huge organizations, wrote in to support Movento's re-registration.
"I was surprised at the total number of people that responded," said Bayer CropScience Manager Kevin Adam. "Of course we hope people will be passionate about the product, but it was still very surprising and very meaningful."
People were passionate about the product because Movento is that rare triple threat in insecticides. It's extremely effective on a broad range of sucking pests, many of which cause serious problems that threaten entire orchards; it's quite soft on beneficial insects and the environment at large; and its active ingredient, spirotetramat, is the first member of the new chemical class of tetramic acids developed exclusively by Bayer. Being in a new class means that threat of developing resistance problems is reduced.
Down To The Roots
Not only that, but it has one other quality that will really make growers, especially grape growers, sit up and take notice. It's a foliar insecticide with two-way systemic activity, so a grower just has to spray a leaf and Movento moves to all areas of the plant, right down to the roots. That's where, as many growers know all too well, nematodes can attack plants, stunt growth, and limit yields.
Movento was first approved by the EPA in June 2008. All was moving along smoothly until environmental groups found the EPA had not followed strict noticing procedures and filed suit. A judge agreed, and essentially called a do-over. That meant that all those growers who'd been using the product couldn't use it anymore unless the product was re-registered. But Bayer knew they had the growers on their side, said Adam. "We encouraged people to write in if it was a tool that was valuable to them, and they took the opportunity, which is great," he said. "The amount of industry support from across the board was phenomenal."
What follows is a sampling of those submissions received by the EPA.
Growers Speak Out
• A general manager of a large California winegrape vineyard: "Our vineyards have been infested with mealybugs for many years, and the problem has recently turned worse. This is due to the lack of safe and effective chemistry to treat this insect. When Movento became available for us to use, we asked a lot of questions, and with the proper answers, we proceeded to use the product to try and control our mealybug infestation. We were glad to see better control of this insect with Movento. … Our vineyards became certified sustainable in 2008 through the Central Coast Vineyard Team's SIP program. We chose to certify our vineyards because we knew Movento was available in the near future, and we could cease application of toxic Category 1 chemicals."
• A field staff manager for a large pome fruit growing operation in Washington (where spirotetramat is also marketed under the trade name Ultor): "Pear growers in the Wenatchee River Valley are faced with a tough battle to control pear psylla. In the 2009 growing season psylla control was as good as it could be. Ultor played a significant role in the control of psylla. The important part of the equation is that Ultor was used in a petal fall spray. Pear growers usually spend in the neighborhood of $1,000-plus, per acre, in chemicals per season to grow clean pears. Last season that was reduced by around $250 per acre due to better control with new chemistries such as Ultor."