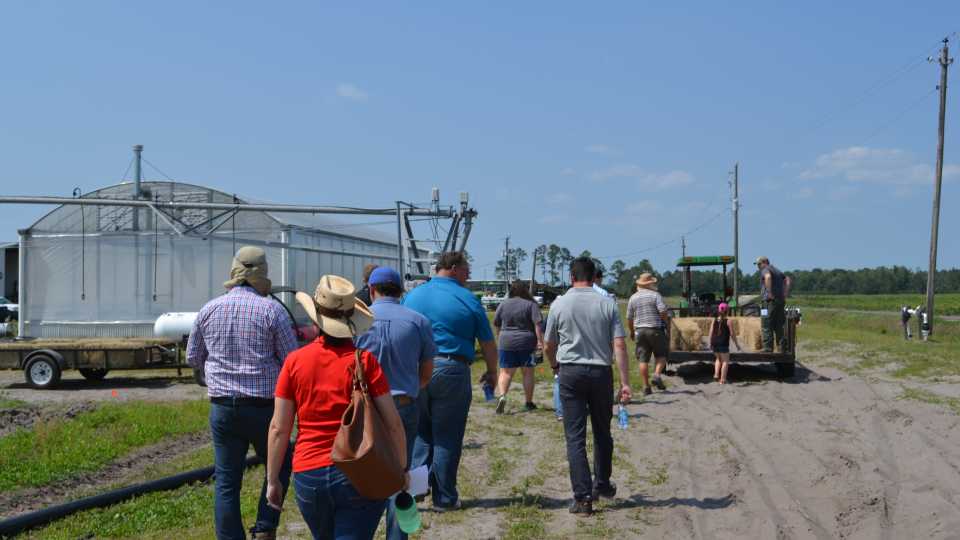 Hastings isn't known as the "Potato Capital of Florida" for nothing. The farm town in the heart of the Tri-County Agricultural Area (TCAA) has a rich history when it comes to the tuberous crop. More than 20,000 acres are still grown in and around the area today.
While times lately have yielded increasing challenges for potato producers, there are some emerging trendlines that could impact the industry's landscape — for the better.
The recently held UF/IFAS Potato Field Day in Hastings was the perfect venue to vet some of the latest information regarding production, crop protection, as well as new marketing opportunities via specialty varieties.
Hosted by the UF/IFAS Hastings Agricultural Extension Center (HAEC) at its Cowpen Branch demonstration farm, the late afternoon gathering drew an impressive crowd despite it falling at the onset of harvest time.
Dark shades, plenty of sun block, and bottled water were necessary accessories as the event kicked off with a field tour to get a firsthand look at several trials in progress. Under the supervision of HAEC Director Gary K. England, stops along the way included presentations led by UF/IFAS researchers on fertigation factors for better yield, weed protection, nematode control, nutrient management, and more.
One stop of much interest focused on a partnership between UF/IFAS and USDA specifically for the specialty potato market. UF/IFAS Assistant Professor Lincoln Zotarelli and fellow researcher Christian Christensen tag-teamed to discuss the topic and show off field plots testing flesh specs, spacing, and heat tolerance of the 'Papa Criolla' variety. According to Christensen and Zotarelli, the overall goal of the partnership is to provide varieties with unique skin and flesh color combinations to growers to bolster their presence in a marketplace with growing demand for varieties with high nutritional/antioxidant value.
Similarly, sweet potatoes — a tuber that has reached "super food" status — has the potential to become a viable summer crop for producers in the TCAA.
Bonnie C. Wells, Doctor of Plant Medicine and St. Johns County UF/IFAS Commercial Agriculture Extension Agent, led off the short course portion of the program by presenting the promising potential of sweet potatoes. With its subtropical nature, preference for light, well-drained soils, and relatively low pest pressure, sweet potatoes appear quite suitable for the Sunshine State, Wells said. "The good thing about sweet potatoes for this area is they fit nicely into our traditional production system," Wells said. "They like the heat and long summer days."
In the quest to find what cultivars are appropriate for the area, Wells highlighted four: 'Covington' (the standard variety of the Southeast U.S.), 'Boniato' (white flesh resembling a traditional potato), 'Burgundy' (yellow flesh with red skin), and 'Palmetto' (high nutritional content and eye-catching purple flesh). "Food trends support the consumption of healthier, colorful, and more unique foods," Wells said. "So, 'Palmetto' might have a greater market potential."
As domestic consumption of sweet potatoes has increased steadily for nearly 20 years, so has supply. "U.S. production has risen substantially — about 6% per year [since 2000]," Wells noted.
That equates to an awful lot of acres and even more profit potential. This statistic alone should make sweet potato consideration a priority for more growers. With multiple questions coming from the audience at the conclusion of Wells' presentation, it appears interest is growing.
Field trials on sweet potatoes are slated to continue throughout 2017. Stay tuned.
Overall, the mood of the meeting was upbeat. My main takeaway: Even in an industry as deeply rooted as potatoes are in Northeast Florida, change is inevitable. And that's not necessarily a bad thing.
Check out the photo slideshow above to see highlights and find out what else was covered.