USDA released an agricultural atlas as part of its 2017 Census of Agriculture, and it has a lot to tell. (See all our reporting so far on the Census.)
Take a look below. Each blue dot represents 1,000 acres of vegetables harvested. The main centers for vegetable production remained the same. It's not until you dig a bit deeper into the charts and tables USDA provides before you begin seeing how U.S. vegetable production is shifting.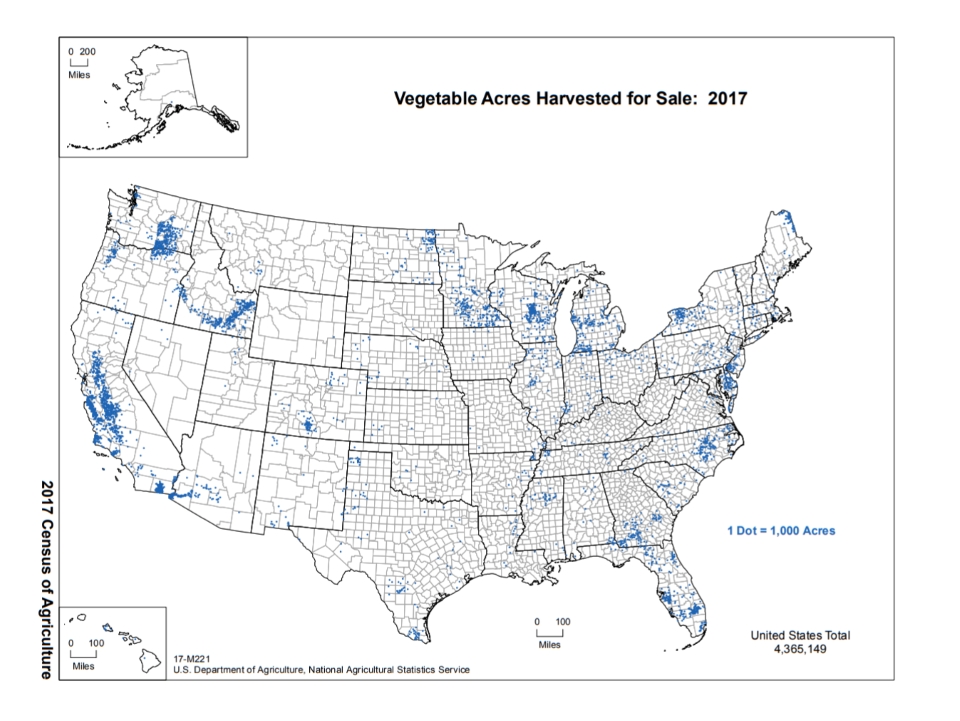 National Changes
Nationally, the number of harvested acres of vegetables declined in the past 10 years.
In 2007, vegetable growers harvested 4.68 million acres. In 2017, that figure dropped to 4.37 million, a 7% decline.
This isn't a situation where a major state like California skewed the numbers. The decline is widespread. Out of 50 states, 35 reported harvesting fewer acres of vegetables.
Yet, although harvested acres decreased, the opposite trend happened in the number of vegetable operations. The U.S. has 5,104 more vegetable farms in 2017 compared to 2007.
What at first seems counter-intuitive makes more sense when you look at the sizes of the farms. Small farms (less than 100 acres in size) account for the entire increase. There are 6,137 more small farms than 10 years ago. In contrast, there are 1,333 fewer operations with more than 100 acres.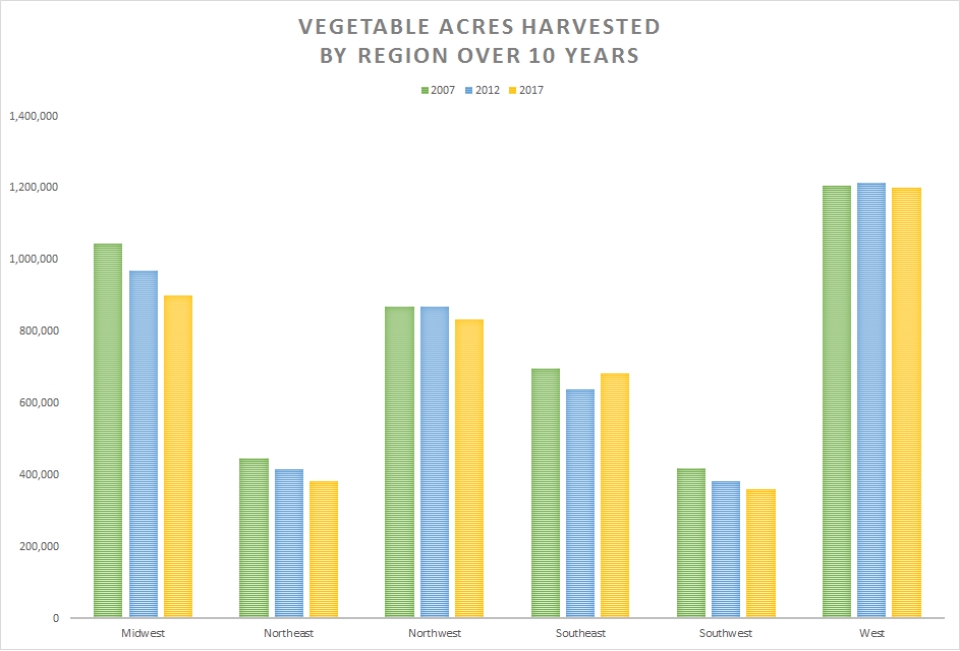 Two Key Regions Impact the Numbers
WEST
Speaking of California, its small increase in vegetable acres harvested (a measly 0.07% increase, or 780 more acres) helped stabilize the national number. California alone accounts for more than a fourth of all U.S. vegetable production (1.17 million out of 4.37 million).
It's no surprise it dominates the Western states. The rest of the Western States combined reported only 31,855 vegetable acres harvested.
Two other Western States reported increases, Hawaii and Utah. But they are such minor players, and California's increase was so small, the region as a whole still lost a little more than 5,000 acres harvested.
MIDWEST
Of all the regions, the Midwest saw the sharpest decline in the number of vegetable acres harvested. Growers harvested 14% fewer acres — or 142,506 acres — between 2007 and 2017.
This has a lot of significance. First, the Midwest represents 12 states, the xx highest group of states. It is also the second highest group in the number of vegetable acres harvested. Large groups tend to even out percentage changes up and down, since one state's sharp increase is blunted by another's decrease.
In this case, just about all states — 11 out of the 12 — recorded a drop in vegetable acres harvested. Only Indiana increased its acres harvested in the same time frame, from 35,503 acres to 40,148. Nowhere near enough of an increase to balance the region's widespread decline.