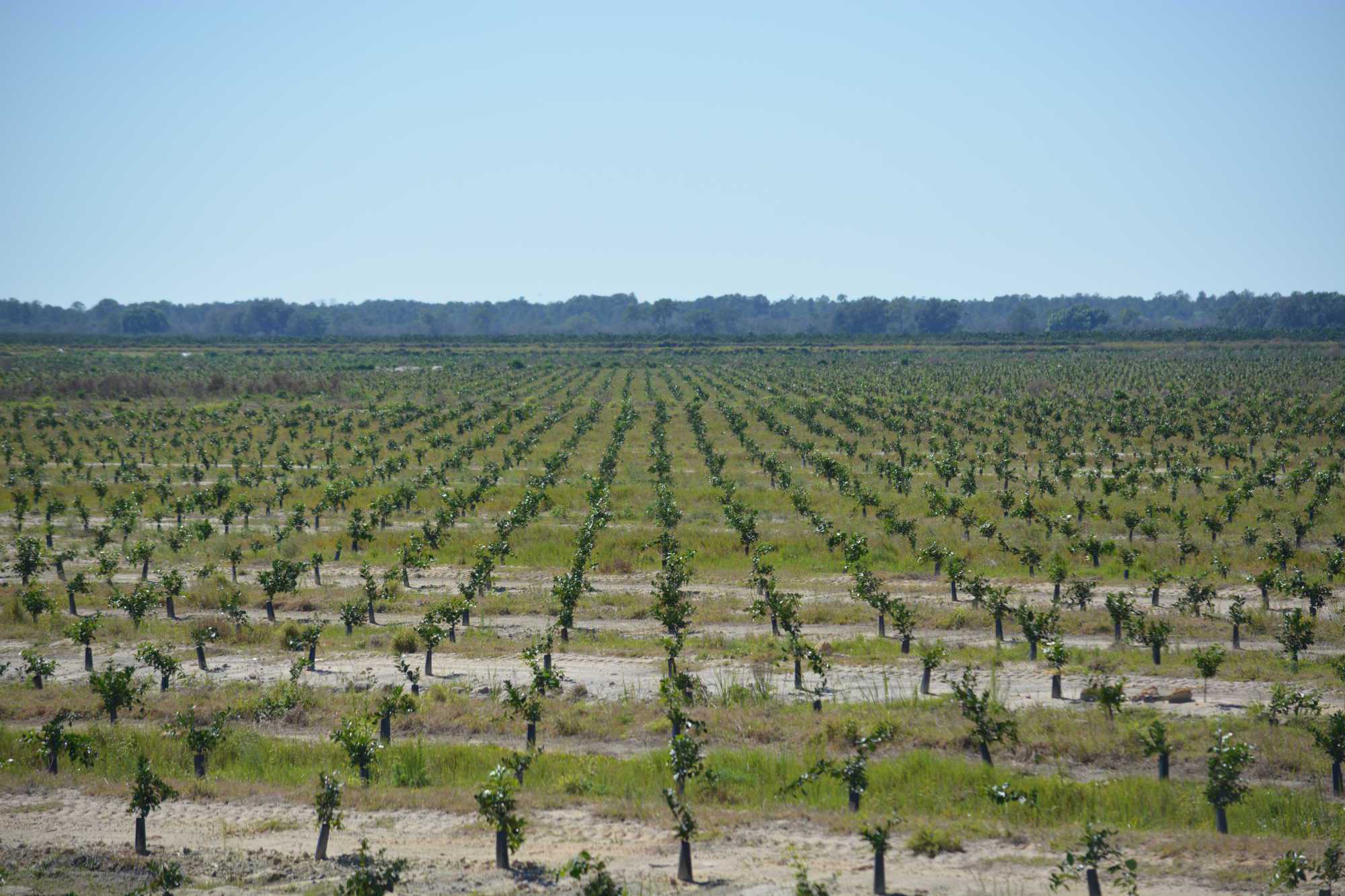 Duda Citrus Division Young Planting
The math is simple. On average, about 3.5% of Florida's citrus trees are lost per year with only 2% being replanted. Even without losses due to diseases and weather, tree populations in Florida are declining by 1.5% every year, setting the industry on a path of diminishing production.
Growers face a more difficult decision when planting because of the uncertainty surrounding the future of citrus markets and the progression of HLB. Last year, Coca-Cola stepped up to the plate along with Peace River Citrus Products and Cutrale Citrus Juices to provide 20-year contracts with growers to encourage replanting. While there is no money supplied up front, it does set a floor price to provide a certain sense of security in making an investment in new plantings. The contract includes 25,000 acres worth of new citrus.
Duda Citrus Division has signed on for the program to buck the declining tree population trend. "We were fortunate that Peace River Citrus Products asked us to participate in the planting program," says Rob Atchley, general manager of citrus groves for Duda. "The Coke project is all about managing variables. If you can at least limit your price exposure, then it really boils down to whether you believe you can make a crop. Based on what we've seen in our more recent plantings, we are more and more confident we can make the crops and get a return on investment — and more importantly, profitability."
Last year, Duda planted about 1,000 acres of new groves on its property south of LaBelle. This year, another 1,700 acres are being planted. "While we are replanting these large blocks, we also are getting back on an aggressive three-year reset program on our established groves to get to 100% reset status."
Atchley appreciates grower reservations about planting as HLB continues to spread. "We have HLB in every block, but we've been able to keep the expression level of the disease down to manageable levels," he says. "We have some younger blocks that are almost seven years old that have been very successful. At five years old, we had a block that had a cumulative infection rate of only 2.5%.
"Three or four years ago, we might not have been so gung-ho to replant. What has given us confidence is since canker eradication and before the Coke deal, we put in about 1,000 acres of solid-set trees. We are getting some age on these trees now and they are yielding very well. That gives us more confidence."
Packing In More Trees
Atchley says the old way of doing things can't apply to the new blocks going in on the farm. New rootstocks, densities, and giving trees everything possible to get off to a strong, stress-free start is a top priority.
"Traditionally, the company has favored Swingle and Carrizo rootstocks. And, those are well represented in this expansion project," he says. "We have started doing more with US 897 because it makes good quality fruit and also is size limiting, which lends itself to planting higher density. Higher densities are culturally necessary to be more productive, more quickly."
The production team also is looking at US 812, US 802, and US 942 based on production and tree size. "There is a lot of attention on the new rootstocks for tolerating HLB a little better," says Atchley. "I hope that is the case, but how well they fit higher densities and our soil types is what's driving our choices."
Plantings are now closer to increase density. While 24-foot rows have been traditional and are still part of the mix, some new blocks will feature 22- and 20-foot spacing. "We are even putting in 600 acres at 18 feet," says Atchley. "I really believe we are just getting where we want to be at 18- and 20-foot rows. The days of 25-foot row spacing are over."