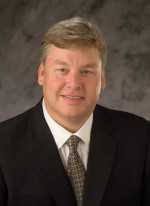 Tweethttps://platform.twitter.com/widgets.js
Jim Blome
Bayer CropScience announced that Jim Blome has been named as President/CEO and Head of Crop Protection for the North American region, effective July 1, 2011. Blome succeeds Bill Buckner, current President/CEO, who will retire from Bayer CropScience at the end of the year.
Blome joins Bayer CropScience from Valent U.S.A. Corporation, which is wholly owned by Sumitomo Chemical Company, where he most recently served as Executive Vice President and Chief Operating Officer. In this role since 2009, Blome led the North American crop protection business and provided oversight to 270 employees, while delivering record sales and profits.
With more than 25 years of leadership experience in agriculture, Blome has held management roles at companies such as Agriliance LLC, FMC Corporation, Agtrol International, Griffin Corporation and Nufarm Limited.
Buckner will support Blome in his transition during the summer months and focus on completing his term as Chairman of the CropLife America board.
Buckner joined Bayer in 1993 and has held several senior positions in the U.S., Canada and Germany prior to being named President and CEO of Bayer CropScience North America in 2006. During his role as President and CEO, Buckner remained an ardent supporter of modern agriculture and worked tirelessly to promote advocacy of innovation within the industry.
Blome will relocate to the North American headquarters in Research Triangle Park, NC, this summer.
Source: Bayer CropScience news release