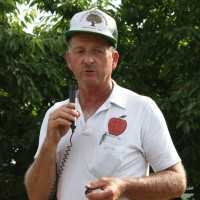 Tweethttps://platform.twitter.com/widgets.js
On Wednesday, June 23, officials with the IR-4 Project coordinated a tour of EPA and USDA representatives, among others, for an up-close view of the current catastrophic threat posed by the brown marmorated stink bug (BMSB).
| | |
| --- | --- |
| Bob Black | Bill Gardenhour |
| Gumming in peaches | Internal damage in apples |
Last year, the BMSB wreaked havoc in apple and peach orchards, along with several other crops, to the tune of several million dollars in unharvested fruit. While researchers at USDA and EPA are working hard on both short- and long-term solutions, the reality is that without some assistance, growers could face even more losses this year.
"I could kill every bug in my orchard, and two days later more of them will come right back," said Bill Gardenhour of Gardenhour Orchards in Smithsburg, MD. Gardenhour has alternated several different chemistries, but it's come at the expense of his IPM program. "We've spent years trying to establish an IPM program of our own, but with stink bug, that's gone out the window."
Robert Black at Catoctin Mountain Orchards in Thurmont, MD, echoes these thoughts and says he's beeen forced to spray almost every day of the week. His biggest concern is that he will quickly run through all of the tools available to him. "We're only in June, and I'm already spraying seven days a week."
Follow GrowingProduce.com for more information on the threat posed by BMSB this year.