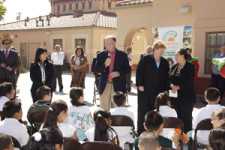 Michigan Senator Debbie Stabenow and California Representative Sam Farr joined students at a Salinas, CA elementary school Wednesday as the legislators helped to highlight the school's participation in the Fresh Fruit and Vegetable Program, which has been strongly supported by United Fresh.
The event, held at Jesse G. Sanchez Elementary School in Farr's home district, gave the lawmakers a first-hand look at how increasing fruit and vegetable access in schools has a positive impact on students.
"Today's event was a great step forward in realizing the importance and benefits of programs like these as they work to improve the health of kids across the country," said United Fresh Vice President of Nutrition and Health Dr. Lorelei DiSogra. "We're especially gratified to see the support Rep. Farr has expressed for salad bars in schools. For United Fresh, getting a salad bar in every school across the country is a top priority."
On a three-day informational and listening tour, Stabenow and Farr were joined at the event by Salinas Mayor Dennis Donohue and representatives of the California Department of Education and Alisal Unified School District, as well as DiSogra and United's Senior Vice President of Public Policy Robert Guenther.
"Without personal contact, many of these initiatives can seem like simply line items on a budget, which is why personal contact and experiences like today's event are so important," said DiSogra. "Now that Senator Stabenow and Congressman Farr have witnessed the success of the Fresh Fruit and Vegetable Program, we look forward to working with them to take this important school nutrition policy to the next level."
Increasing the consumption of fresh fruits and vegetables, and a national school salad bar strategy, will be priority issues at United's 2009 Washington Public Policy Conference, September 9-11 at the Renaissance Mayflower Hotel in Washington. More than 350 produce industry leaders are registered to attend. For more information, call 202-303-3400 or visit www.unitedfresh.org.