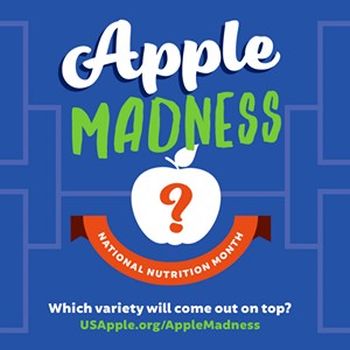 In last year's first 'Apple Madness' tournament, 'Ambrosia' took home the "Chomp-ionship" as America's favorite apple. To celebrate National Nutrition Month, the U.S. Apple Association (USApple) is encouraging apple lovers to join the "Apple Madness" bracket tournament – a five-week, five-round online competition spotlighting 32 apple varieties and essential health facts.
Continuing through March 31, apple fans can visit the official 2017 Apple Madness bracket at USApple.org/AppleMadness to vote for their beloved varieties – including tried-and-true veterans such as 'McIntosh,' 'Granny Smith' and 'Fuji'; popular favorites 'Honeycrisp' and 'Pink Lady'; or rookies like 'SweeTango', 'SnapDragon,' and 'Jazz.' The varieties with the most votes advance weekly.
Throughout March, any individual can vote daily to help their favorite apples advance through each round:
"Fresh 32" (March 1-7): First round features all 32 apples seeded in 16 match-ups.
"Vitamin-C Sixteen" (March 8-14): Top apples from week one fight it out in round two.
"Edible Eight" (March 15-21): Eight apples fight to make it to the "fiber four."
"Fiber Four" (March 22-27): Only the four favorite apples remain.
"National Chomp-ionship" (March 28-31): Vote and watch as the ultimate apple variety is crowned.
Voters will have the chance to win plenty of apple-related prizes including gift baskets, cookbooks, gift cards and more from USApple members all month long, and the grand prize will be awarded to the prediction bracket that most closely matches the actual outcome. Members donating prizes include Borton Fruit, Chelan Fresh, Domex Superfresh Growers, JAZZ Apple, Michigan Apple Committee, New York Apple Association, New York Apple Sales, Rainier Fruit Company, Red Jacket Orchards, Ridgetop Orchards, Riveridge Produce Marketing, Sage Fruit Company, and Washington Apple Commission.
"Apple Madness provides a unique opportunity to educate customers on the flavor profiles and benefits of the many different apple varieties – during basketball season when everyone has tournament bracket fever," said Korenna Wilson, Director of Consumer Health, USApple. "As the competition heats up, we share apple facts, important health research and award fun apple-themed giveaways. Last year, we received more than 25,600 votes in our inaugural competition. We look forward to seeing which variety comes out on top this year."